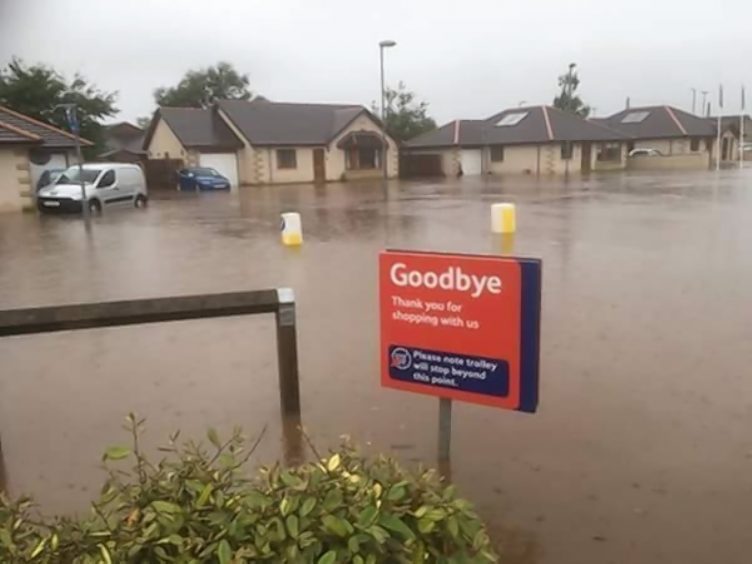 Communities across the north and north-east will receive £13.5million to invest in new flood defences this year.
Nicola Sturgeon confirmed that her government would pump almost half a billion pounds into protecting homes and business from flooding over the next decade.
Aberdeenshire will get more than £7million this year as part of the scheme – more than any other local authority in Scotland – while other areas in the north and north-east will receive a total of more than £6.4million.
Much of the north-east and Highlands were devastated by flooding caused by Storm Frank at the end of last year.
Dozens of homes were evacuated during the floods, while businesses and local infrastructure were also badly damaged.
Announcing the funding, the first minister said the cash will be used to deliver 40 new flood protection projects and support local flood risk management plans, protecting around 10,000 homes across the country.
Speaking in Newton Stewart, which was also badly hit by Storm Frank, Ms Sturgeon said: "Earlier this year I saw first-hand the devastating effects of mother nature as storms battered our communities.
"Last December is on record as the wettest and saw levels at rivers across Scotland overflow.
"This agreement will give local authorities the certainty they need to deliver the actions set out in their Local Flood Risk
Management Plans to help protect individuals, business and communities from the danger of flooding."
Aberdeen City will get almost £1million as part of the scheme, which has been agreed with Cosla, the umbrella body for Scotland's 32 local authorities.
Highland Council will get just over £2.5million, Moray £1.5million and Orkney £1.4million. Shetland will receive £70,000.
The Scottish Government will invest a total of £420million in flood defences across the country over the next decade.
Councillor Stephen Hagan, Cosla spokesman for development, economy and sustainability, said: "Protecting communities is at the heart of what local government does and is the reason why local government has committed this substantial resource for flood protection.
"Climate change, and the associated increase in flooding events, poses a significant national risk.
"This is why investment in flood protection schemes and associated infrastructure is critical to protecting vulnerable householders, businesses and communities, and why the strong working relationship between local and Scottish Government is so important."