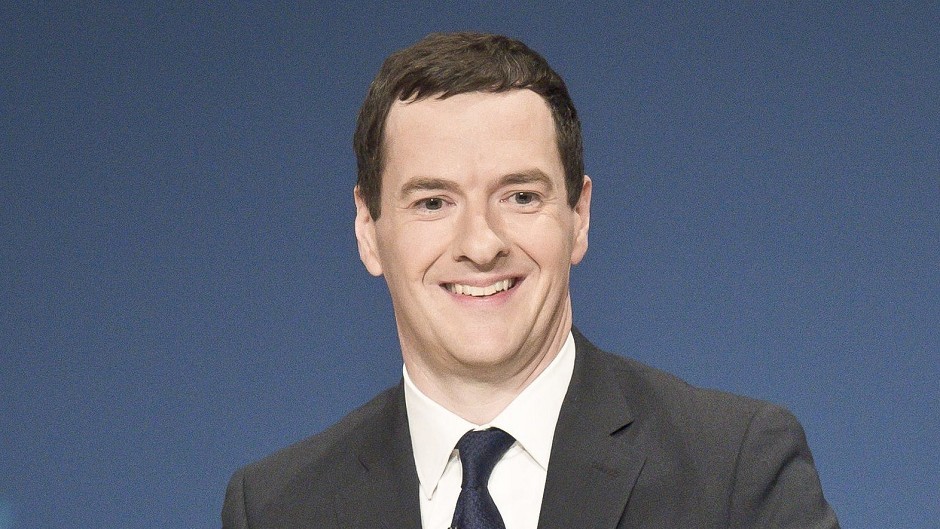 Chancellor George Osborne has signalled he is planning a fresh £25billion assault on public spending in the next parliament – including a controversial freeze on benefits.
In his keynote speech to the Conservative conference in Birmingham, he claimed credit for the economic recovery, but insisted much more needed to be done to "finish the job".
He was "absolutely clear" that Scotland would be handed more powers in the wake of the independence referendum – but made a prediction that they would be used to lower taxes, not put them up.
The address was packed with messages to voters going into May's election, including that the Tories had been proved correct on the economy, but that they needed to complete their work, and that they were protecting the NHS, reforming pensions and overhauling benefits.
In an unusual move, Mr Osborne evoked the memory of the "Choose Life" speech made by the heroin-addicted character Renton in the film Trainspotting.
His address concluded: "Choose jobs. Choose enterprise. Choose security. Choose prosperity. Choose investment. Choose fairness. Choose freedom. Choose David Cameron. Choose the Conservatives. Choose the future."
The underclass portrayed in Trainspotting were among those targeted in the measures outlined by Mr Osborne.
Confirming a major new round of cuts in the next parliament, he said: "The latest Treasury estimate is that eliminating the deficit requires a further £25billion of permanent public expenditure savings or new taxes.
"And I tell you in all candour, that the option of taxing your way out of a deficit no longer exists, if it ever did."
The chancellor said that Whitehall spending and public sector pay would continue to be restrained, and working-age benefits frozen for two years, saving £3billion.
"This is the choice Britain needs to take to protect our economic stability and to secure a better future," he said.
He announced plans to "abolish" youth unemployment with new apprenticeships and welfare changes, and confirmed he would scrap the "death tax" on pension pots.
Labour leader Ed Miliband unveiled plans last week to invest £2.5billion extra a year in the NHS, but Mr Osborne said: "You cannot have a properly funded National Health Service unless you have a properly run economy.
"Don't let anyone in this party concede the NHS to Labour. They would ruin our NHS. The real party of he NHS is in this hall today."
On Scotland, the chancellor said: "Let me be clear – we will honour in full our commitments to Scotland."
He added: "And by the way, when Scotland is rightly given greater control over its taxes, I suspect the people of Scotland will choose to put them down, not up."