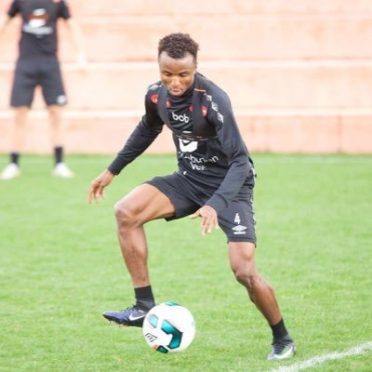 Aberdeen's new signing Chidi Nwakali has been given a solid grounding for his spell in Scottish football, according to Norwegian sports journalist Endre Romoren.
Manchester City midfielder Nwakali yesterday joined the Dons on loan until the end of the season, having spent the last two years in Norway in loan spells with IK Start and Sogndal. The 21-year-old previously played in Spain with Malaga B and Girona.
Romoren covers Sogndal's matches for Sogn Avis newspaper, and says Nwakali caught the eye in a poor season for the club, which saw them relegated from the Eliteserien through the play-offs.
Although Romoren says it took time for the Nigerian to adjust, he feels his time in Norway helped Nwakali develop the physicality required to succeed with Derek McInnes' side in the Scottish Premiership.
Romoren said: "He is highly-rated – although he was a bit up and down.
"He struggled at the beginning, and had a few dips in form. He needed a bit of time to adjust.
"When he was at his best he was the team's best player last season – he stood at a different level to the rest of the squad.
"You could say he struggled with consistency. In addition, he played for a team that was struggling in big portions of last season.
"In the games where Sogndal were good, he was the stand-out player. Every time the team worked, he worked, but it was not the easiest team top perform in.
"He's calm and confident, and has moved around having also played in Spain.
"He's a young guy who is willing to go through the hard stuff.
"The Norwegian league is quite physical, although it is even tougher in Scotland.
"But I think he has the mentality and the strength to adapt to that."
Nwakali netted four goals in 26 appearances for Sogndal last season, and although Romoren says the youngster is predominantly attack-minded he feels he has become a more rounded midfield player in recent months.
Romoren added: "His main strength is the attacking part of the game. He is good on the ball, quick, he has a very good shot and good passing.
"When he was loaned to IK Start the year before he only focused on the attacking parts.
"They had to teach him the defensive side of the game when he came to Sogndal, but after a while they got him to be quite good at winning the ball as well, and he morphed into a box-to-box midfielder.
"He is not a big guy, but he is tough. He is not afraid to stand up for himself."
Nwakali has been capped up to Nigeria's under-20 level, and although he has yet to win his first senior cap he was called up to the Super Eagles' squad for friendlies against Algeria and Argentina in November.
Nwakali has set his sights on being part of the squad for this summer's World Cup in Russia, and Romoren says he is capable of achieving that goal, adding: "He was in the squad when Nigeria played a couple of friendlies in Russia in November, so they know about him.
"I do think if he plays and performs consistently there's a chance that could happen."