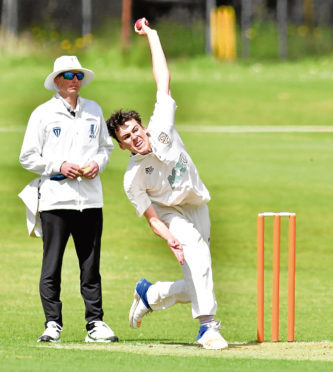 Aberdeenshire Cricket Club has been rocked by the loss of their teenage bowling star, Connor Shorten, to domestic rivals Grange.
The news was confirmed yesterday, less than a fortnight before the start of the 2018 season, and comes as a blow for the Mannofield club, which has seen other promising talents move to the central belt in recent years.
Shorten, 17, has already been recognised by Scotland at age group level, is involved with Cricket Scotland's under-19 squad, and was Aberdeenshire's Young Player of the Year in 2017.
He started playing for Keith in the North of Scotland Cricket Association while still at primary school, but moved from Huntly to Aberdeenshire in 2013 and made his first XI debut in 2015, aged 15.
His departure follows the move by another former Shire paceman, Adrian Neill, who switched to Heriots in 2016.
Grange unveiled their new signing by posting online: "We are delighted to announce that Connor Shorten will be joining the Stags for the 2018 season.
"He represented Scotland under-17s last year and is currently involved with the under-19 programme."
The Aberdeenshire captain, Chris Venske, whose team makes the journey to Grange for its opening championship fixture of the season on April 28, admitted he was disappointed at the situation.
But he said he understood why some of Scotland's brightest youngsters were making the decision to base themselves in the central belt.
He added: "Connor has come on a lot in the last few years and obviously you don't want to lose players when you have watched them develop and you can realise their potential.
"However, if you are a young player in the spotlight, and you have ambitions of catching the eyes of the Scottish selectors, I think there are advantages to being based in Edinburgh.
"It also makes it easier to get to training sessions if you are in Cricket Scotland's plans, whereas it can be a trek if you have to keep travelling to and from Aberdeen.
"Selfishly, I would prefer it if all our lads stayed at Aberdeenshire.
"But, being realistic, I understand why some of them decide to head elsewhere."
The Mannofield club, which is looking to improve on last year's disappointing eighth place, meet local rivals Stoneywood-Dyce in a friendly match this Saturday.