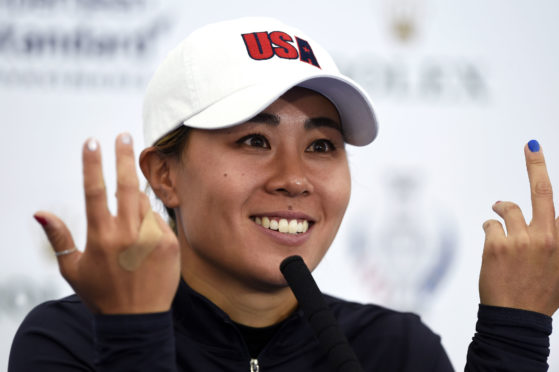 Danielle Kang won't be hushing anyone up at the Solheim Cup, because she wants a hostile atmosphere and even the boos if they come.
The 26-year-old was one of Juli Inkster's big rookie successes in the USA's Solheim victory in Iowa two years ago, revelling in the supportive and loud crowds at Des Moines.
She thinks she'll find every bit as much inspiration from crowds that will be largely against her.
"I hear we'll be booed at one point, so bring it on," she said. "I love rowdy crowds. I had an amazing time in Des Moines. The fact that we were on US soil made it better and I heard all the 'USA' chants.
"This is different because we're in Scotland, but I'll still have them cheer as loud as they can, whoever they want to cheer for but I still want to hear them.
"I'm loud whether I'm in Nevada or in Scotland. I don't think I change no matter where I am. I'm definitely going to embrace the first tee, I'm going to embrace whenever I get a chance to hit it, I'm going to embrace the fans out there for the entire golf course."
Kang thought someone was trying to wind her up when she was told she'd be booed, but she's excited for "the different vibe" in Scotland to the USA.
"Scottish people are very respectful and honourable, and this is where the home of golf is," she said. "I'm excited to see what the fans are going to be like."
She won't be responding with Patrick Reed's famous "shush" gesture from the men's Ryder Cup here at Gleneagles five years ago because she likes to hear and be heard.
"He shushed the crowd?" she said. "I can't do that. I like noise and I can't be shushed. You'll see me doing waving to the crowd to get louder."
Kang, who won two US Women's Amateur titles before turning professional, raised more than a few eyebrows in a recent podcast when she said she wanted "to take souls" in matchplay competition, adding "you're going there to make people cry, just crush the other team. That's the fun of it".
"Regular golf's OK, but I love matchplay golf," she said yesterday, using far less emotive terms. "Whether it's team game or singles, I like playing against another person. I like to have a win or a loss instead of playing the entire field.
"In golf we lose most of the time, and it's hard to win. But match-play it's just one person.
"I love the team environment when you have a teammate, and you get to play for them as well as with them and it's kind of like a sisterhood."
Meanwhile, Georgia Hall has no concerns about her form ahead of the Solheim Cup as Europe try to avoid a third straight defeat.
Hall was one of Europe's best players in the defeat in Des Moines in 2017, winning two of her five matches – both in foursomes alongside Sweden's Anna Nordqvist – and losing narrowly to the experienced Paula Creamer in the singles.
The 23-year-old from Bournemouth went on to win the Women's British Open a year after her Solheim Cup debut, but her sole top-10 finish on the LPGA Tour this season came in her first event in January.
"I mean you can't have a fantastic year every year," Hall said.
"But I've played a lot of consistent golf maybe the past two or three months.
"Some scores haven't kind of matched that, but I feel like I've been playing a lot better the second half of the season."
Charley Hull's form is also a concern given that she has only recorded one top 10 since winning in Abu Dhabi in January, while she has the small matter of her wedding next week to think about.
Hull, who is marrying MMA fighter Ozzie Smith on September 21, said: "I just kind of left the wedding all to him, to be fair.
"I said what I want and I've just let him deal with it all.
"I've been looking forward to this event for a long time because it's on home soil and although I've played in Europe (in Germany in 2015), I've not played in Great Britain.
"So I'm looking forward to it. And then I'm looking forward to next week as well."