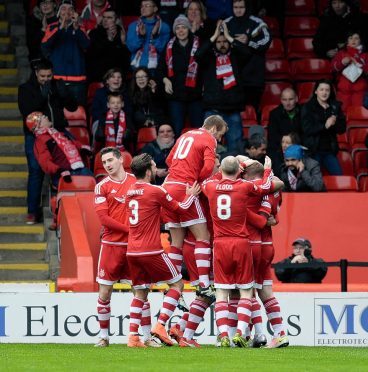 The Dons spent almost £100,000 policing matches at Pittodrie last season.
Between July 2015 and May 2016 the club racked up a bill of £92,884.56 to ensure enough officers were on hand to protect the public from antisocial behaviour.
And while many friendly matches only cost the club a few hundred pounds, every time Celtic visited the costs soared to about £14,000.
In total both games against the Glasgow club played in Aberdeen cost £28,252.44 to patrol.
This compares with the £10,607.64 which was spent on two matches against Dundee.
Recent matches between Aberdeen and Celtic have been the subject of significant advance preparation, with officers scouring social media to preempt any trouble and extra resources such as horses and dogs being used.
Last night, a police spokeswoman said the cost of policing each match was set on a "case by case" basis.
And she said policing commanders worked closely with Aberdeen Football Club to ensure the correct level of security at each match.
The spokeswoman added: "Local policing commanders work very closely with football clubs to ensure that the officers deployed are proportionate to the football matches concerned.
"This is done in full consultation and agreement with the clubs themselves."
Police have now learned to assess the risks involved each time the Dons play at home, depending on who is travelling to Pittodrie.
Throughout the season many "low risk" teams will go head-to-head with Aberdeen FC without any police presence at all.
During these games extra security may be brought used in the shape of stewards or guards.
The police spokeswoman said: "Police Scotland will work with event organisers to identify opportunities to minimise costs through consideration of alternative solutions, such as private security firms, without compromising the safe and successful running of an event.
"In addition through collaboration with the football clubs, a comprehensive risk assessment of each fixture is undertaken.
"As a result there are matches where it is deemed proportionate that there will be stewards only within the stadium, thus incurring less costs for policing services."