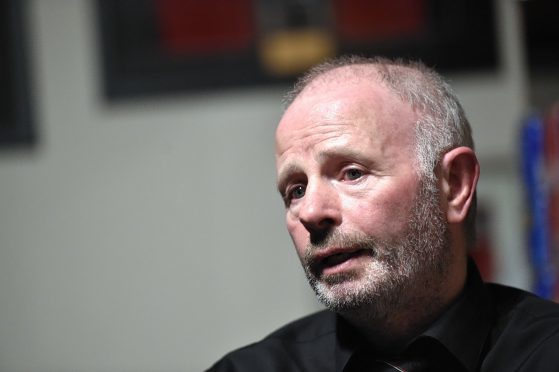 Aberdeen chairman Stewart Milne fears Derek McInnes will walk away from the Dons if the club's £50million plans for a new stadium and training facilities are rejected.
McInnes opted to remain with the Dons after turning down the opportunity to succeed David Moyes at English Championship side Sunderland in the summer, although the Dons manager has spoken frequently about his frustrations that the club does not possess its own training facility.
The club's £50million plans for a 20,000-seater stadium and training facilities at Kingsford near Westhill go before councillors in October.
Milne expects it would become difficult to keep McInnes content at the Dons if the project is rejected.
He said: "I would go as far as saying that if we had a negative decision on these plans earlier in the year it would have been extremely difficult to convince Derek to stay.
"I think if it doesn't go through now then it would put Derek in a tough position as it would definitely weigh heavily if he is made new propositions in the future.
"It would really go against our arguments for keeping him here long term if we don't deliver this project.
"After all we have spent the best part of 18 years to get to this point so what can I say to him if this is rejected?
"Tell him we'll get another thing in place in the next four, five, six or seven years because we simply don't know.
"There are simply no other options and if it is a negative then the consequences are very severe."
Milne has also warned the Dons may be forced to play European games in Edinburgh or Glasgow if they don't move away from Pittodrie.
He said: "The consequences of a negative decision would have massive bearings on the future of this football club.
"At some point we will no longer get dispensation to play European games at Pittodrie.
"When we played Apollon Limassol in the Europa League this season, they were forced to their home match 45 minutes away in Larnaca.
"We are not as fortunate as them.
"Our option would be to play in Edinburgh or Glasgow.
"What sort of statement would that send out for this city?
"What would our supporters think if they had to travel to Edinburgh or Glasgow for a home European game?
"That is how important it is for this club. We are punching above our weight at the moment but that there is only one way this club can go if we get a negative decision in October and that is backwards.
"The benefit of playing in Europe opens up an entire new revenue stream for us.
"If we have to hire a stadium in Glasgow, how many fans will travel down? How big a cut would we have to give another club to borrow their stadium?
"It could effectively finish Aberdeen as a serious player in Scottish football."