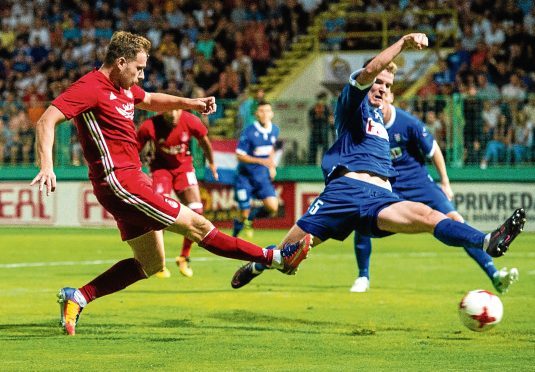 Aberdeen midfielder Greg Stewart admits he paid the price for overindulging during the summer break.
The on-loan Birmingham City player has scored only once in 14 appearances since joining the Dons in June.
The former Dundee player made only his fifth league start in last week's 2-1 Ross County and admitted it has taken him longer than expected to reach full fitness.
He said: "That was my own fault because I should have kept on top of things myself.
"I had too good a summer if I am being honest but I will learn from that.
"I had a good few holidays and lots of drink. It is one of these things, I had a poor season last time out and I kind of let my head go elsewhere.
"I enjoyed the summer too much.
"I went on three holidays. There was a boys' holiday involved, I went away with the family and with the missus, just me and her.
"It is something I won't let happen again.
"I knew as soon as I came back I hadn't done enough training.
"I have been in training during the international breaks I have been in training. I feel a lot fitter now.
"The boys have been doing well and we are only a point behind Celtic."
Stewart hopes today's meeting against Hamilton Accies will not be Derek McInnes' final game in charge of the Dons.
The Dons manager has been heavily linked with the vacant Rangers job – but Stewart is optimistic he will remain at Pittodrie.
He said: "Do I expect it to happen? I have no idea.
"We just come in every day and get on with our job. If things happen, things happen. That's football.
"Right now, we just want to concentrate on the weekend and the job we need to do.
"I've not seen anyone really speaking about it to be honest. We just come in and do what we need to do.
"It does seem to be becoming a big deal, when nothing has actually happened.
"There's been wee bits of banter now and then in the changing room but that's just normal. I'm sure it's the same in every workplace."