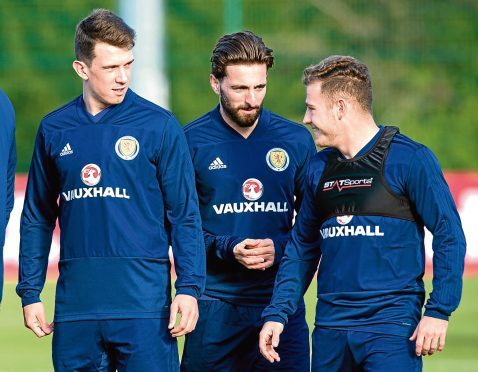 Aberdeen manager Derek McInnes has urged Dons captain Graeme Shinnie to make the most of this week's involvement with the Scotland squad.
The 26-year-old is one of three Dons in Malky Mackay's squad for Thursday's meeting against the Netherlands at Pittodrie.
Kenny McLean, who won his first cap against Czech Republic in March last year, and on-loan Celtic midfielder Ryan Christie are also hoping to feature in this week's friendly.
McInnes said: "One of the best parts of being a manager is telling a player they've been given an international call-up. I enjoyed breaking the news to Graeme because I knew how important it was to him. It was like handing him a Christmas present.
"He was bursting with pride and can't wait to be involved.
"I feel it's long overdue but I have had the luxury of working with him every day. I know how consistent he's been and that's the same for all three of the lads we've got in the squad.
"They have shown that over a period of time and it's an ideal game to have a look at them.
"It's a friendly and while you still want to win the game, it's a good chance to give players an opportunity to show what they can do.
"Graeme has been banging at the door of the international setup for a while."
With Celtic's highly rated Kieran Tierney and Liverpool's Andy Robertson both competing to start at left back for the national team, McInnes believes Shinnie's best chance of becoming a regular fixture in the squad is as a central midfielder.
He said: "He's probably played 70% of the time for me as a midfielder.
"I don't think he's going to win the fight at left back. That's not to say he couldn't play there but there are two very good players in front of him.
"I think Graeme is like me in that he sees his future as a midfielder.
"But when you see him rampaging and raiding from left back up and down the line then there's no doubt he can play there.
"In certain teams he might be more equipped to play left back but, for me, I like the fact he's so versatile.
"Being able to play a few positions does him no harm at all.
"There was a period when, naturally, he would be looking forward to the squad and hoping to be in it.
"Latterly, I think he'd got to the stage where he was expecting not to be in it.
"So, on the occasions he was hoping to be in there, I got around him and told him his chance would come.
"An international call-up is worth waiting for, so I just reiterated to him that if he kept doing his job well here at Aberdeen then it would be recognised.
"There are a lot of changes in this squad, so I'm sure that whoever the new manager is will look into this game and see what he has available.
"All the players who have been called up will know this is a fantastic opportunity.
"But as I've told the three of our boys, it's just a start – all you've done is make a step forward.
"Now you are in the squad the next challenge is to make sure you stay there, you can only do that by training well when you're with Scotland and keep up your form for Aberdeen.
"If they get on to the pitch, don't play with the handbrake on, don't play safe, go out there and make sure you make an impact.
"If they do that, then they're more than good enough, I'm sure of that."