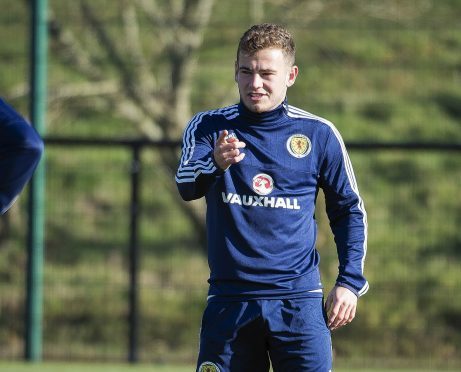 Bournemouth winger Ryan Fraser believes Kilmarnock forward Kris Boyd will regret criticising the Aberdeen trio who were selected for Scotland.
Boyd claimed Scotland interim coach Malky Mackay only called up Kenny McLean, Ryan Christie and Graeme Shinnie to help sell tickets for Thursday's Pittodrie friendly against Holland, which finished 1-0 to the Dutch thanks to a first-half strike from Memphis Depay.
The Kilmarnock forward, capped 18 times for Scotland, was also fiercely critical of the inclusion of former Dons captain Ryan Jack, who made his international debut at right back.
Fraser, who moved from Aberdeen to the Cherries in 2013, admits the pressure will be on Boyd when the Dons travel to Kilmarnock later this month.
He said: "I did see his comments. I think the whole squad seen them. We were eating one night, and you see him saying those words. It's not for me to say.
"I've grown up with those players, I've came up through the ranks with them, and they deserve it as much as everyone else as well.
"I don't know what he's speaking about. It's his opinion. He's entitled to his opinion.
"Just because he says it doesn't mean he's right, and it doesn't mean he's wrong.
"You just need to get on with it. As a player, if he is going to say stuff like that, you just need to rise above it.
"I thought Jacko did very well. It's not his position, he hasn't played right-back this season for Rangers, and he comes in and he's playing against a world class player like Depay and he keeps him quiet. What more can you ask for? If you ask Kris Boyd now, I bet he won't be saying that.
"I know Aberdeen and Kilmarnock are playing in a couple of weeks' time and he's taken his anger out on Shinnie as well, and they're both captains, so we'll see how that one goes. "
Fraser won his second international cap as a second half substitute and went close to levelling for the Scots almost immediately after replacing James Forrest.
The 23-year-old said it was special to return to Pittodrie with the national team.
He added: "I was here with the under-21s a couple of years back but was injured, so it was good to get on the pitch. It was nice to be back. I haven't really been in Aberdeen for about three years so it was nice to get back and it brought back a few memories.
"Everyone was here. My family still live up here. There was eight of them in total: my mum and dad, my uncle, and cousins and that. I do miss the place and it was nice to see the younger ones as well.
"I wanted to start but it doesn't always work out like that.
"With a new manager coming in, maybe I've shown him that when I do come on, I can make an immediate impact.
"Hopefully Malky has that faith in me as well. He does believe in me, but when I get my chance I just want to take it."