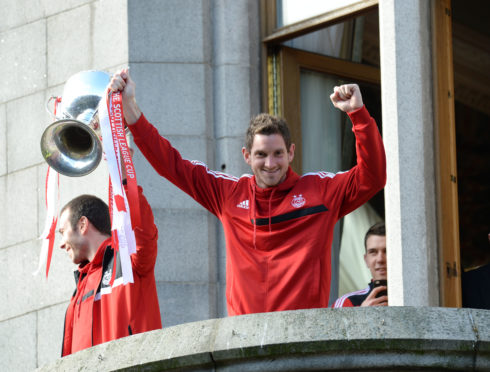 Memories are made in moments of true euphoria.
When highlights reels of careers and lives are played out in the mind, the days that stand out do so because of their unforgettable impact on the individual.
Scott Vernon takes immense pride in cherishing these moments. Promotion has been achieved with Colchester and Shrewsbury; a Wembley victory with Blackpool in 2007 his role in their journey to the Premier League.
But with his association north of the border, 2014 will always be special. Nineteen years after their last trophy, Aberdeen had Caley Thistle in their way, as hope turned to expectancy in the Granite City.
The game was forgettable. The celebrations afterwards were anything but.
Vernon said: "I started on the bench and when I came on, tried to do what I had done all season; be a threat and try to get a goal.
"It eventually went to penalties and we stayed composed. We all took good penalties, although I'm sure for the fans it was 'heart-in-mouth time'.
"It's always nice to win that way, as the celebration afterwards is unbelievable. The city of Aberdeen came together – the open-top bus parade is a memory I will cherish."
Vernon's brief role came with 12 minutes left in extra-time, with neither the Dons nor Inverness looking like seizing the initiative to become heroes.
Penalties beckoned and while the intense drama of the moment can prove too much for some, with spot-kick glory squandered in the cruellest of fashions, those in red remained calm.
Vernon was taker number three and slid his effort low into the right corner, well away from Dean Brill, setting up Adam Rooney for the winning kick.
At the time, Vernon had no idea his time at Aberdeen was winding down. He was signed by Mark McGhee in 2010 and hit double-figures in his first two seasons at Pittodrie.
However, the arrival of Rooney and his dwindling game time gave him the inkling that his future may not lie under the northern lights of old Aberdeen.
Vernon said: "I knew I wasn't playing as regularly but I had no clue (about leaving). I was going to see what happened at the end of the season and we left it late to have the meeting to discuss the future.
"At the time, I was probably hopeful I would be there but knew there would be no guarantee.
"But it was really enjoyable for me. There are brilliant people at the club and it's such a good fanbase. I only have fond memories of my time there. It was bittersweet as I got to move close to home and having two young girls at the time, it was nice to be closer to home.
"I haven't been back since I left but it's something I must do, as I have a house that I rent out in Aberdeen. I might come up and try catch a game.
"I was quite lucky to have a few promotions and the cup win was brilliant. I left Aberdeen for Shrewsbury and we got promoted in the first season.
"You never know what's coming. If you told me at 34 I'd be playing for Cleethorpes Town and plumbing for a living, I wouldn't have believed you."
There is much less expectancy around the Dons heading into Sunday's Betfred Cup final against Celtic but when any silverware is on the line, the platform is there for someone to be the hero.
"All the pressure is on Celtic but you try telling Aberdeen fans that. It's a game you have to stay in as long as possible and hope for a little bit of magic.
"All you can do is give it your best shot and it's a great chance for someone to be a hero."