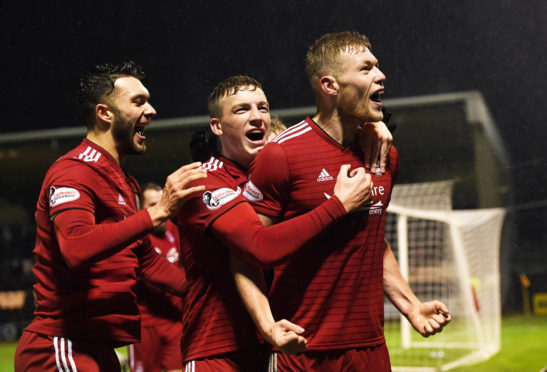 Sam Cosgrove used goals against St Mirren as the springboard to his Aberdeen career and he wants to repeat that feat again.
His first two goals in an Aberdeen shirt came in the victory over the Buddies in October and he netted the winner in Paisley in December, which proceeded a run of eight goals in his next seven games.
The prolific frontman is now up to 16 goals for the season and with St Mirren lying in wait at Pittodrie today, he hopes further good omens await when he takes to the field.
He said: "I hadn't scored many goals for the club before that so to get the winner that day meant a lot as anyone who saw the pictures of my celebrations could clearly see. That was a good moment as was the two I scored against them in the cup earlier in the season as it was a massive weight off my shoulders at the time.
"They were the first I'd scored for the club and I thought that I was going to kick-on after that but it wasn't the case for a couple of more months. But scoring at Paisley against them really did kick-start it this time around and I have been able to keep the scoring run going since then."
The Dons' striker has been rewarded with cult hero status by the Aberdeen supporters, jokingly calling for him to win the Ballon d'Or, but his own team-mates have taken up the mantle this week.
Dominic Ball was recorded by Joe Lewis at a team game night giving his own tribute to the 22-year-old, which has taken off on social media in the last two days.
Cosgrove added: "It's cute isn't it? I was set next to Danny (Rogers) and although you can't see it in the video, he was looking into my eyes. It was the day before Valentine's Day and I didn't have a date, so that was nice.
"Dom doesn't lack confidence to be fair. He was playing for it a bit – nearly begging Joe to put it on Twitter. We didn't know it was going to go as viral as it has. Last time I checked it had 50,000 views. All my pals back home are asking what's going on – 'you've moved to Scotland, who are all these people?'
"My family and friends have been massively supportive but it's my job to keep my feet on the ground."