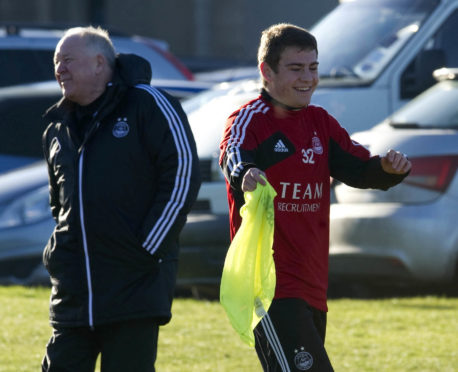 Ryan Fraser is destined to be an outstanding player for one of England's top clubs.
That is the view of Craig Brown, who was Aberdeen manager when Fraser went down to Bournemouth as a teenager in 2013.
Fraser, who is likely to be named in the Scotland squad today, has been linked with a number of high-profile clubs this summer, including Arsenal, Liverpool and Man City.
Sums of £30 million have been talked about for Fraser – in the last year of his contract with the Cherries – with the Dons due 20 per cent of any potential fee.
Former Scotland boss Brown, now a director at Pittodrie, believes Fraser has the potential to "rescue" one of the big clubs in their time of need.
He said: "I can't speak highly enough of him. He's an intelligent wee guy but when his advisors get into his head – in hindsight they might have been right. He may not have got right into the national side or a top team. He might have needed a spell getting promotion and being a big shot.
"For him to go to one of the top four or five is a big ask but if you're one of them, you'd buy him. The time for him to go to get the move, is if one of the big teams are struggling. One of the teams that needs a player that can rescue a team and he could certainly rescue any team.
"He lifts the crowd, creates goals and scores them. If you were a manager down there, he'd be a certainty to be an outstanding player wherever he goes."
Brown was initially disappointed at Fraser's departure, leaving as an 18-year-old for £400,000, but in hindsight believes he may have needed the chance to be a key man at Bournemouth rather than try jump to one of the top clubs straight away.
He added: "He scored a great goal for Scotland recently, cutting in from the left, and he's at a good level right now. He's got the highest number of assists in England and it was the same here.
"He was laying them on for Niall McGinn and he was scoring for fun. Every opponent was trying to boot him! One of the players in the Edinburgh teams had it in for him – it might have been Robbie Neilson or Alan Maybury.
"I was disappointed when he left – if he stayed, I thought he would have gone straight to a big club. It looks like now he has to go via Bournemouth. It's hard when you're offered a big rise as a young lad and your representatives encourage you to go.
"My advice to him was wait, give it another transfer window or two and you'll be in the shop window. I was thinking for our side, as well as his. But I do hope he gets a move, as we get a fee from it."
Brown's successor Derek McInnes has now led the Dons to a sixth successive campaign in Europe, following Celtic's 2-1 win over Hearts in Saturday's Scottish Cup final.
He said: "It's superb. It's a very good achievement, there's no doubt about that. If someone said to you six seasons in Europe, you'd bite your hand off for it. Tony and Derek deserve immense credit for that."