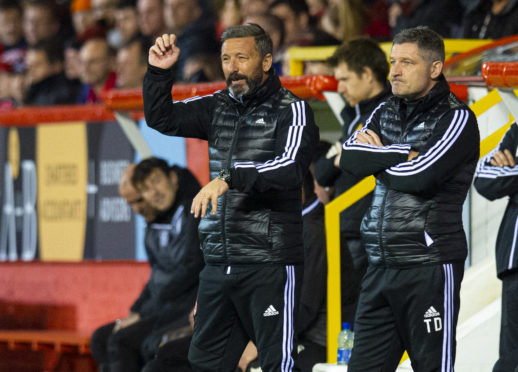 Aberdeen manager Derek McInnes insists his club will back Scotland manager Steve Clarke's call to reschedule fixtures to help the national team's Euro 2020 qualification bid.
The SFA's proposal to postpone fixtures on the weekend of March 21 and 22 to give him more time to prepare the national team squad for the Uefa Nations League semi-final against Israel on March 26 has fallen on deaf ears within the SPFL.
Now Clarke is proposing bringing forward the games not involving Rangers and Celtic to Friday, March 20.
Should the two Glasgow clubs fail to progress to the last 16 of the Europa League they would be in a position to reschedule their domestic ties, but Clarke accepts at present both the Hoops and the Gers would struggle to shift their games due to their European commitments.
Dons boss McInnes is fully supportive of any attempts to bolster Clarke's bid to lead to Scotland to the finals of Euro 2020 in the summer.
He said: "We fully support it if it helps. I know it causes problems in the fixtures list for certain ones, but I think you've seen in the last few internationals that there are a lot of players from our league who will be called upon and there's a couple of injuries already for Steve to contend with.
"It's too important for us. I know it'll cause fixture congestion for the Old Firm teams in particular and it's not ideal, but I do think anything we can do to support the national team and get a result, we should be trying to look at."
McInnes knows there are no guarantees having extra time will improve Clarke's chances of leading the Scots to the final and with it a chance of qualification for the tournament finals in the summer, but he believes any support the league can offer should be given.
The winners of the semi-final at Hampden will travel to face the winners of the other semi-final between Norway and Serbia with the Path C final scheduled for Tuesday, March 31.
The Aberdeen manager said: "Everybody makes comments about how the international manager doesn't get enough time to work with his players.
"The longer he gets, I'm sure the better the outcome. It doesn't guarantee anything, but it'll maybe help Steve to plan a little better as he doesn't have to deal with that last round of fixtures.
"He probably can't pick the team he wants until maybe the Sunday or Monday but if this happens he'll know what he has for a bit longer and I'm sure it'll help him."