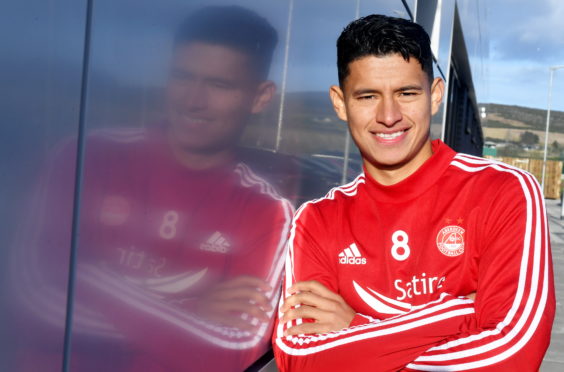 Aberdeen manager Derek McInnes insists the arrival of Ronald Hernandez shows the Dons are ready to cast the net wider in their search for new players.
The 22 year-old joined the Dons on a four-and-a-half year deal from Norwegian club Stabaek on Friday for an undisclosed sum.
McInnes is delighted to have the Venezuelan international on board and while he will continue to look within Britain for players the Dons boss is pleased to have added scope to look at other leagues in Europe.
He said: "We usually sign British and Irish players, ones who are more familiar to us.
"But over the last six months we have really looked hard at other leagues and this has happened on the back of that.
"The club have made an investment in bringing him in and we are all eager for it to work out the way we want.
"I would like to think there will be more signings from outwith the British Isles in future, but that doesn't mean we won't be focusing on Scotland, England and Ireland."
McInnes is grateful of the support given by the club in making the deal happen and also in the administrative support given by Aberdeen's strategic partners Atlanta United who helped facilitate the move.
He said: "We look at 10 leagues now, ones we think we can potentially get access to.
"Ronald was flagged up in that but initially we thought it would be too difficult for us to do because he had three years left on his deal and it was difficult to get in touch with his agent in Venezuela.
"The feedback we'd got from on the ground in Norway was that it would be a difficult one to do.
"But through Atlanta and the collaboration we have with them, he was in their system too and they helped us make contact.
"There was enough encouragement after that for us to be able to do a deal.
"I like the fact the club were willing to pay a fee to bring a young player with a lot of potential to the club.
"Ronald can be a real asset to the club.
"It was our own scouting system which flagged him up initially but the help from Atlanta proved very useful."
McInnes also confirmed former Watford defender Tommie Hoban has been offered the chance to complete his rehab following cruciate ligament surgery.
Hoban's loan was cut short due to injury a year ago but as he is now a free agent the Dons have offered him training facilities.
McInnes said: "We spoke to Tommie last week and we've offered him an invitation to come up. There was no point in him coming if he wasn't ready to get on the grass and do a bit of work. We've offered him the invitation that was there the entire time. We were just waiting on him really.
"I don't know if it's going to be next week or the week after, but he may well be coming up. I think he's actually at a stage now where he can get his boots on and do a bit of work. We always said we'd be happy for him to come up and finish his rehab."