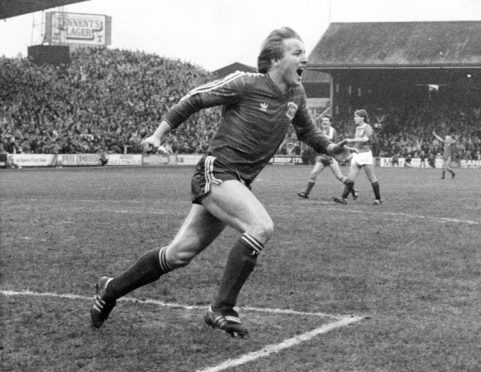 Aberdeen swept their rivals aside with ease in 1985, with Frank McDougall's 22 goals in his first season at Pittodrie cementing the club's fourth, and most recent, league title.
It was a record-setting campaign for the Dons too as they scored 89 goals in 36 games en route to a seven-point margin of victory at the top of the table.
Their final tally of 59 points from a possible 72 reinforced what had been a dominant campaign.
For McDougall, it was also confirmation he had made the correct choice in opting to move to Pittodrie.
He said: "I was at St Mirren when Alex Miller took over and I had the choice to go to Coventry, Anderlecht or Aberdeen and I chose Aberdeen.
"Coventry and Anderlecht were both in the top flight, but I didn't want to leave Scotland. I wanted to go north and see those Northern Lights.
"It was great, fantastic. Playing with St Mirren I had played in five semi-finals and missed the Anglo-Scottish Cup final due to a broken leg so I thought moving to Aberdeen, who were a fabulous team, could take me to the next level.
"They were all great players at Pittodrie. Fantastic guys who knew what it took to win, not just two or three games but every game. And, of course, in Alex Ferguson they had a manager whose drive was incredible."
Team-mate Billy Stark called the Dons striker a likeable rogue.
McDougall does not disagree with the tag and admits to falling foul of manager Ferguson's temper on more than one occasion.
He said: "What can you say about Fergie? He is a legend isn't he?
"I must owe him about £300,000 in fines.
"I was caught playing snooker on Thursdays and in the Cotton Club on Sundays.
"Every bonus I got I seemed to be handed back to him.
"The mentality at the club was that you had to win.
"It was hammered into your brain from the moment you arrived until the day you left. Even winning wasn't enough."
During the dominant campaign by the Dons McDougall scored two hat-tricks.
His 13-minute hat-trick in the penultimate game at Hearts followed his treble against Rangers at Pittodrie in January, emphasising his contribution to the title triumph.
The 62-year-old is surprised at the 59 points tally and believes it does not tell the tale of how strong a league campaign it had been for his club.
He said: "I'm surprised we only took 59 points as it felt as if we had been even stronger than that return.
"I won the golden boot after scoring 22 goals in the league.
"We lost four games, two to Celtic and two to Dundee United, and had five draws in what was a really competitive league at the time.
"That tells you how strong we were.
"I scored in one defeat at Parkhead earlier in the season, which was a game Celtic had to win after we had raced out in front.
"And even though we lost that day we knew we were the better team and we just kept pounding teams, racking up the points and pulling away.
"We had a wee run around Christmas of two draws and two defeats, but I scored a hat-trick against Rangers in January and we kicked on again from there. I watched the highlights of the game recently and it brings back so many great memories.
"Willie's goal all but secured the title but we had to go to Tynecastle to play Hearts a week later and I scored a hat-trick in 13 minutes in the first half as we won 3-0 to make it official.
"Aberdeen was a massive club and without a doubt it was the most enjoyable time of my career.
"Given it was the last time the club won the league it shows you just how special that group of players and that period of time was for the club and the city.
"It was fantastic. It felt like it was a full house every week. Pittodrie wasn't the biggest of stadiums but you could hear the noise and there was a huge fear factor for visiting teams."
The McDougall record that's never been beaten
Frank McDougall completed a clean sweep of medals during his time at Pittodrie but another record that stands out is his feat of scoring in eight games in a row.
It all started sluggishly – but once he opened his account he simply could not stop.
McDougall said: "When I signed for Aberdeen I went through a patch of never scoring and the boss Alex Ferguson said 'it's just confidence, it'll come' and when the first goal did come it didn't stop.
"I still hold the record for scoring in eight consecutive games. It's not been beaten yet, but I know Niall McGinn got close one season. It was 2012 and he had scored in seven in a row.
"The Dons were due to play Celtic and I wished Niall all the best, but Celtic won the game. I emailed him after the game saying 'unlucky big man.' I had to rub it in, but I remain proud my record is still intact."
A chronic back injury, later diagnosed as traumatic spondylitis cut short McDougall's career at his peak and in 1987, at the age of 29, he was forced to hang up his boots.
His final season did not bring another league title, but it did bring both League Cup and Scottish Cup winner's medals.
He said: "1986 was another memorable year and we beat Hibs in front of 40,000 in the League Cup final and Hearts in front of 62,000 in the Scottish Cup final, but the league was a disappointment.
"The finals were fantastic as we turned both Edinburgh clubs over easily, but finishing fourth in the league was a disappointing way to relinquish our title."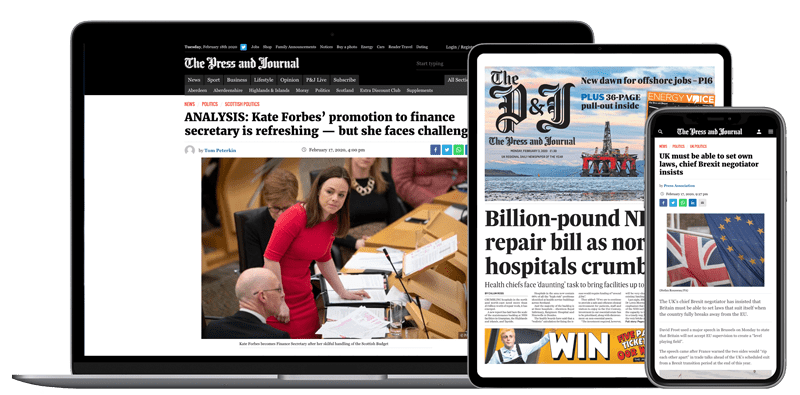 Help support quality local journalism … become a digital subscriber to The Press and Journal
For as little as £5.99 a month you can access all of our content, including Premium articles.
Subscribe