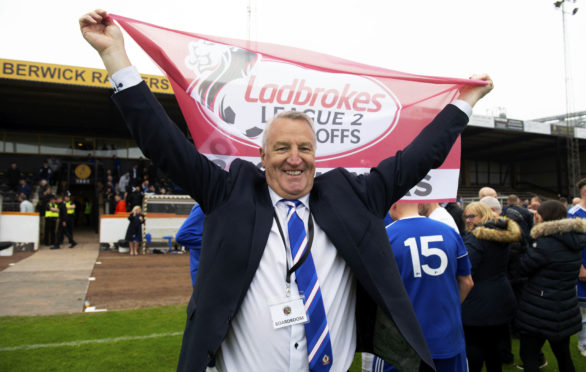 John Sheran will not be rushed into making any decisions on his future as Cove Rangers co-manager.
Sheran was in the stands at both pyramid play-off games against Berwick Rangers, less than a month after suffering a heart attack following winning the Highland League title.
An emotional Sheran, who was joined by his family at Shielfield Park on Saturday, will consult with those closest to him before deciding whether to guide the team into League 2.
He said: "I need to think about my health in the short-term and then decide what's best for everyone at the club and for my family.
"It's too early to be thinking about that right now – it's been a long time coming and we're going to enjoy it.
"It's been a nightmare (being away). I'm really lucky to get a second chance and to see this is a big emotional thing for everyone connected with the club.
"To have my family here, the players' families and the staff's families here is brilliant. They were two unbelievable performances against Berwick and two brilliant ones against East Kilbride before that.
"I had to get cleared from the doctors on Thursday but when they play as well as that, you don't have to get too excited."
Cove will now be Aberdeen's second club in the SPFL and will fancy their chances of a competitive finish following their promotion.
Sheran added: "They can achieve a lot. We've got good age across the team and it's up to them to up their game every week. We need to play at this level every week and it's up to them to do that.
"In the last two years we've played against league teams and done well. We need to set a standard.
"It's always hard for a team dropping out of the league but there should be opportunities to get into the league.
"We've made it known that we feel teams should come down automatically – we're a progressive club and we've got the chance to prove it at a different level."