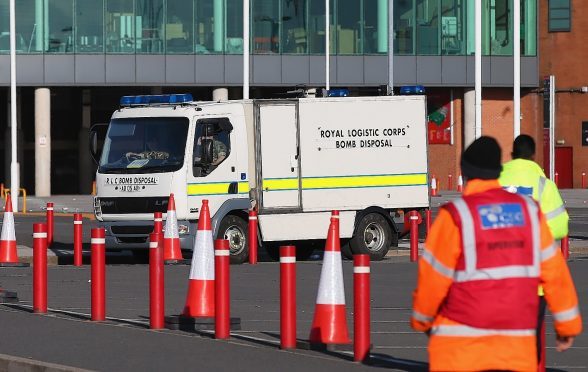 North-east Manchester United supporters will lose out on seeing their team in action tonight after the "fiasco" of the Old Trafford bomb scare.
More than 100 north-east fans had their hopes of cheering the Red Devils on during their final league match of the season dashed on Sunday as the 75,000-seat Theatre of Dreams was evacuated and the match abandoned.
It later emerged the scare was sparked by a dummy bomb, which had been accidentally left behind by Security Search Management and Solutions Ltd during a training exercise using sniffer dogs.
Last night, the head of the firm, Chris Reid said he took full responsibility for the blunder.
The retired Scotland Yard police officer said: "This mistake is entirely mind. I have to take full responsibility for leaving a training item behind on Wednesday."
Thousands of football fans will return to Old Trafford tomorrow for Man U's rescheduled game against Bournemouth.
But those from the north-east who had travelled down on Sunday, will have to watch from home as there has not been enough time to reorganise their travel.
Mike Wilson, of Epic Events, which charters aircraft to fly football fans from the north-east to Manchester United home games, said it was just "too late" to reorganise the jaunt.
He said: "I contacted the airline but they haven't got an aircraft available.
"It's a shame but it's just one of those things.
"It's just too late to organise."
Meanwhile, Manchester's police and crime commission Tony Lloyd yesterday called for answers over the "shambolic" security scare.
Mr Lloyd, who is also Greater Manchester's interim mayor, said: "It is outrageous this situation arose and a full inquiry is required to urgently find out how this happened, why it happened and who will be held accountable.
"This fiasco caused massive inconvenience to supporters who had come from far and wide to watch the match, wasted the time of huge numbers of police officers and the army's bomb squad, and unnecessarily put people in danger, as evacuating tens of thousands of people from a football stadium is not without risk."
Mr Wilson, who was not at Old Trafford for the game, described those responsible for leaving the fake bomb in the grounds as "utterly incompetent".
United's executive vice-chairman Ed Woodward has promised to carry out an investigation.