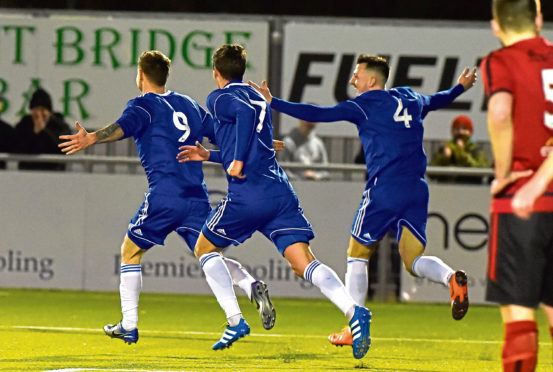 It's as you were at the top of the Highland League after the top four all chalked up victories. However, league leaders Cove Rangers were made to work hard against Inverurie Locos as they won 1-0 for a second Saturday in a row.
Cove boss John Sheran felt his side were rewarded for showing patience before getting the winner with only 10 minutes remaining, with Mitch Megginson netting the decisive goal.
He said: "Games against Inverurie Locos are always competitive but I felt they came with a plan to stop us playing.
"As a result I felt we were the only team setting out to win the game.
"We showed everything in our attempts to get the goal and we just had to grind it out until the goal came.
"We were applying the pressure all the time but when a team has their stall set out it's difficult to break them down.
"I made the decision to bring on Jordan Macrae as we felt we needed a more natural striker.
"Jordon Brown didn't like my decision but we needed to try something different
"We are tight for numbers at the moment so it was great to get Paul Mcmanus back after his injury absence," he added.
Cove were without Blair Yule and Darryn Kelly through suspension and injury respectively, while the visitors again gave starts to youngsters Thomas Reid and Andy Watt.
In 12 minutes Inverurie goalkeeper Andy Reid made a great save at his left post to keep out a Harry Milne header.
The champions were not having it all their own way in the early stages, with Locos breaking up their attacking forays well.
Ten minutes from half-time Megginson worked the ball on to his left foot before firing low at goal, with Reid clutching to his left.
Neil Cooper made a tactical switch at the resumption with Andy Hunter and Jamie Michie coming on for Neil Gauld and Stuart Duff.
Sheran saw an improvement in his side's potency with MacRae offering a more physical presence.
Chances kept coming with Reid making two more very good saves to keep out Milne headers and a Daniel Park free-kick.
The winner came after 80 minutes when substitute Cameron Milne delivered a cross that bounced off Chris Herd and sat up perfectly for Megginson to knock home his 35th of the season.
Locos boss Cooper felt the result did not reflect his team's contribution to the proceedings.
He said: "I'm disappointed as I felt we competed well, but our passing wasn't as good as it can be.
"I felt we deserved the draw but you pay the price for not defending a cross with Mitch Megginson around.
"He has scored a lot of goals at this level and you can see he has played at a much higher level.
"He is on the go the whole time.
"Cove are the best team in the League and look like winning it again.
"They remain the only team I've failed to beat since I joined the club," he added.