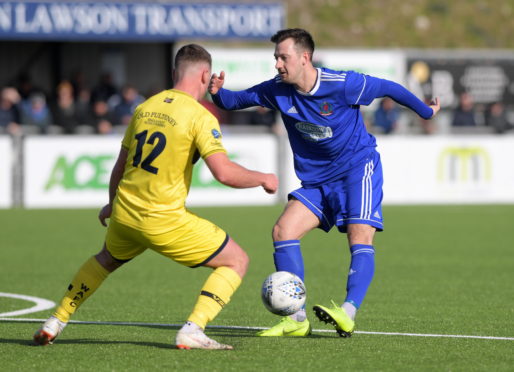 Cove Rangers midfielder Connor Scully has backed his side to complete the job and ease past East Kilbride at Balmoral Stadium this weekend to set up a pyramid play-off final against League Two bottom club Berwick Rangers.
Cove looked set to take a two-goal advantage into Saturday's second leg until Kilby substitute Jamie Longworth pulled a goal back from 15 yards to give the Lowland League champions some hope for this weekend.
The loss of the injury-time goal was a disappointing end to an assured and composed performance from the Highland League champions but Scully remains confident.
He said: "No team likes to concede a goal in the 93rd minute, but we would have snapped your hand off for a 2-1 away victory before the start of Saturday's game. It was disappointing to lose that late goal but I still feel we hold a good advantage going into this weekend's second leg.
"Even if we had gone back up the road with a 0-0 draw, I firmly believe we would still have had a good chance of going through to the final play-off games."
Scully believes the preparation work was key to his side recording a crucial away win at K Park as Cove exploited one key weakness of the home side.
He said: "We had watched a bit of video of East Kilbride prior to the first leg at K Park and we saw that they weren't great at defending set-pieces.
"We took full advantage of that in the first half with headed goals from Harry Milne, after just three minutes, and again with another powerful header, this time from Scott Ross, just after the half hour mark, both of them from super corner kicks from Dan Park.
"We really could have scored more after half time, again from set-pieces, but I still think we have a great chance of beating them at home this Saturday and progressing to the final play-off games against Berwick Rangers.
"It is still only half-time so there is plenty of time left but with home advantage, on a pitch we know well, I think we will have enough in us to progress.
"We're now in a really great position to push on and reach the next round. Of course the job is not done yet, but we do have a lead going into the second leg and hopefully we can finish the job this weekend."