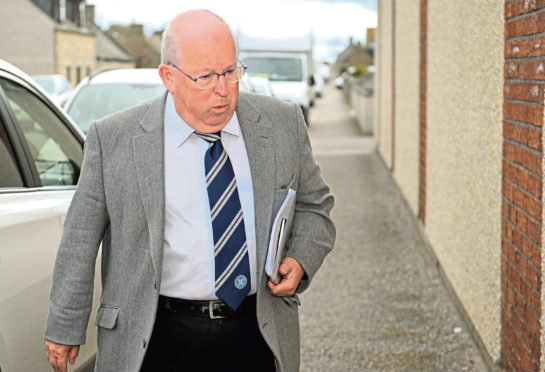 Highland League secretary Rod Houston believes the new season ahead will be a memorable and ultimately positive one.
With Cove Rangers having created history as the first Highland League club to have been promoted by virtue of the pyramid play-offs, Houston feels that the race for the title will be even closer. Cove have won three of the last four titles, with Buckie Thistle triumphing in 2017. Brora Rangers were back-to-back champions in 2014 and 2015.
Houston said: "There are lots of interesting elements to this season's championship.
"If you look at the top end there's no doubt the promotion of Cove Rangers, a club as strong as they have been over the last decade, means that a number of other clubs feel that their chances of securing the championship have suddenly got a wee bit better.
"I think that we might end up with a very competitive championship and we could have three or four clubs well in contention next March.
"I think that would do wonders to boost attendances and increase the interest in the race for the title. I believe as many as six clubs will be looking at themselves in that light. Fraserburgh, Formartine United, Inverurie Locos and Brora Rangers will obviously have ambitions, but I certainly wouldn't discount Forres Mechanics or Buckie Thistle, if they can get a run going, and manage to stay clear of injury.
"Of course Rothes will also be hoping for a top-six finish – I think the Speysiders have done fantastic work in recent years to restructure the club.
"I'll be equally keen to see if Strathspey Thistle and Keith maintain their improvement, how Brian MacLeod gets on re-working Clach and how Wick Academy do with gradually restructuring their squad now that the very good group of players they've had have now reached a certain age."
Houston is intrigued by the news that the two men who steered Cove through the play-offs last season, Graeme Mathieson and Roy McBain, have joined Turriff United.
He said: "I also want to keep tabs on how some of the younger managers get on this term, like Martin Skinner at Huntly, with both Lossiemouth and Fort William hoping to see an improvement.
"Fort have now got it right off the field, when you talk to the leaders on their committee there's now a clear unity of purpose."
The former Scottish schools' supremo and Highland Football Academy manager added that member clubs are reasonably happy with having a free Saturday twice during the season.
Caley Thistle had expressed an interest in fielding a colts team in the Highland League, to fill the 18th slot, which was voted down by member clubs.
Houston said: "We discussed the issue in May of having two free weeks during the season in a 17-team league. The clubs accepted the situation and decided that's what they wanted to do.
"Agreement was reached by virtue of discussion so no votes were taken.
"It was quite interesting as to how they found a passage to agreement.
"In addition, a number of clubs intimated that when the free Saturday came along they would expect their players to use that weekend to arrange events such as stag parties and the like that saved a lot of other disruptions in a sense. So it might actually work out as a pragmatic solution."