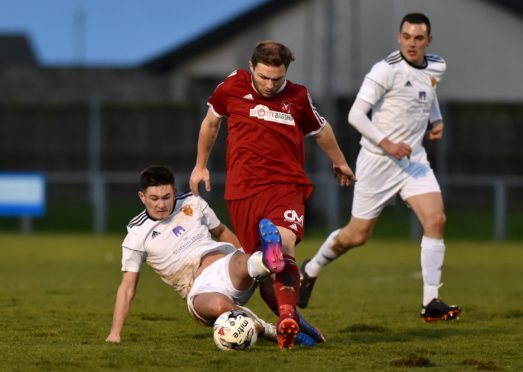 Deveronvale manager Steve Dolan admits the absence of Dane Ballard is a major blow for his side ahead of the new campaign.
The striker could miss the whole campaign after suffering a cruciate ligament injury and Dolan knows his goals will be difficult to replace.
He said: "Dale will definitely be out for most of season as he didn't get his cruciate operation until the start of July.
"He is looking at a minimum of nine months out so we won't have him back until February at the earliest.
Highland League striker thanks supporters after donations help pay for career-saving op
"At the other end of the pitch, Robbie Mutch, whom we had on-loan from January 31 until the end of last season has returned to his parent club, Falkirk.
"But our regular number one Grant Pennet has recovered from the hand injury he suffered at work with the experienced James Blanchard doubling up as second choice keeper and goalkeeping coach.
"We finished 12th last season but I felt the quality of our play possibly merited a higher finish.
"We were eighth the season before but I thought we were probably a better team last year.
"However we scored 25 fewer goals, mostly due to Dane picking up his injury, but, on a more positive note, we also conceded 10 fewer goals."
Dolan hopes his side can produce more consistency during the 2019-20 season.
He said: "When we faced the so-called top Highland League teams we did reasonably well.
"That was our second year with our young squad. They have more experience.
"Our biggest problem in recent years has been inconsistency. The top teams such as Brora and Cove are steady every week. I didn't want to make too many changes for the new season and add players just for the sake of it.
"I would prefer to see this team grow up together by spending five, six or seven years together and see where that takes them, similar to what sides like Wick Academy and Fraserburgh have done in the past."
Fact file
Ground: Princess Royal Park
Colours: Red and white
Honours: Highland League champions 2002-03, 2005-06; Scottish Qualifying Cup 1951-52, 2001-02; Aberdeenshire Cup 1947-48, 1950-51, 1951-52, 1961-62, 1965-66, 2000-01, 2006-07, 2011-12; Aberdeenshire Shield 1994-95, 2002-03
Manager: Steve Dolan
Season 18-19: Finished 12th
Player's view
Deveronvale goalkeeper Grant Pennet is glad to be back playing after suffering a career-threatening injury to his hand at work last season.
The 32-year-old mechanical engineer said: "The whole of last season was stop-start for me.
"I ruptured my Achilles tendon and missed the first half then I had an incident at work in January where I was lucky to escape without losing my finger or even my hand.
"When I was able to join in at training at the end of last season, it was such a relief but now I can look ahead to the new season.
"It was really frustrating to sit out most of last season.
"We signed Robbie Mutch on loan from Falkirk and he was brilliant.
"I thought my distribution wasn't bad until watching Robbie from the stand. He is also a brilliant shot-stopper.
"But, after all the events of last term, I am just happy that I still had my finger and my hand.
"I can't wait to get back playing again.
"After everything that happened, I'm now looking forward to the new season."
The former Huntly and Turriff United goalkeeper added: "We've signed Liam Archibald from Lossiemouth and Colin Charlesworth re-joined us at the end of last season so we've added quite a bit of experience to what is a really young squad."