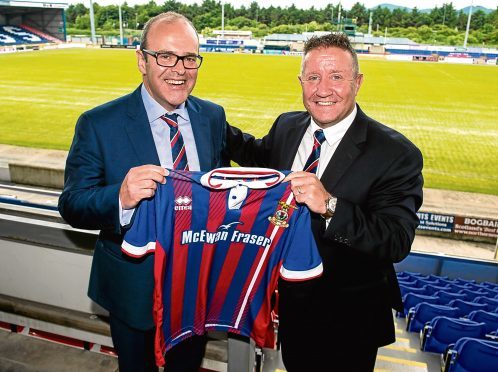 Caley Thistle chairman Willie Finlayson has resigned just three months into his tenure and former Inverness midfielder Barry Wilson has warned deeds and not words are needed to win over increasingly disgruntled supporters.
Finlayson, who succeeded Kenny Cameron on May 23 following his resignation which came after relegation from the Premiership, will be replaced by fellow Inverness director Graham Rae.
Wilson believes the change of chairman will matter little to the club's supporters who are more interested in seeing the team's fortunes on the pitch improve after two defeats to open the Championship campaign.
He said: "There have been whispers of a change coming for a while and it was no secret Willie viewed his chairmanship as an interim job.
"Some supporters will be surprised at a change coming so quickly, but they will be more interested in what is happening on the pitch.
"From what we've seen so far it is going to be a challenging season.
"The supporters want to see the team competing and picking up points.
"There's been little to cheer about so far, but I know the manager John Robertson and his assistant Brian Rice are trying to bring in a couple of fresh faces to help the team.
"John is trying to work within constraints and is travelling up and down the country looking for players who can do a job within his budget."
The club announced the change in a statement last night where it was claimed Finlayson's role was always intended to be a short-term one.
New chairman Rae, who has worked in the oil industry in both Texas and Abu Dhabi, was one of the original four Muirfield Mills Investors, alongside Richard Hillier, Alan McPhee and Paul MacInnes, who put £250,000 into the club in 2012.
The board has also announced it will have brought in £500,000 in fresh investment by the end of next month and insist, despite relegation, it is in a strong financial position. The financial climate will improve further when the paperwork is completed to transfer ownership of Caledonian Stadium from the Tulloch Group to the club next month.
Wilson has welcomed the progress being made following a difficult campaign last season.
He said: "The team has lost midfielders Greg Tansey and Ross Draper while defenders Gary Warren and Carl Tremarco are injured.
"That's four of the most experienced players from the squad and it was always going to take time to bed in a new team.
"I believe the previous regime was a bit carefree when it came to contracts and the belts have had to be tightened by the new board, but it is encouraging they are trying to build bridges with the supporters.
"That has been absent for too long from the club."