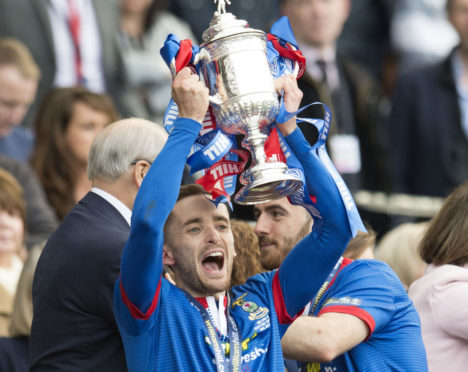 As the thermometer creeps towards minus-10, Nick Ross feels strangely at home.
Now decamped in the central Romanian city of Sfantu Gheorghe, Ross has taken his career off the beaten path in an effort to fulfil his own ambitions.
It would have been the easiest thing in the world for him to re-sign with Caley Thistle.
He had spent months back training with his childhood club during the first half of the season and at one stage, there were mooted discussions about a short-term deal.
But experiencing European football was something always on his bucket list.
After near misses in the Czech Republic and Spain, an offer came up to move to Sepsi OSK in Romania and it is one he gladly accepted.
Ross said: "I went to train in the Czech Republic for a week, which was a good standard but nobody spoke English.
"I then got an offer to train with Toledo in Spain, which was a dream for me. The city is just outside Madrid and is a Unesco World Heritage site. But they didn't have much money and needed a defender first.
"The offer from Romania came out of nowhere and I wasn't sure about it. I spoke to Gregory Tade, who'd played out there, and he said it was a really good standard and, if you do well, teams will pick you up.
"There's a lot of new players but it's been good for me as there's five or six of us that speak English. There's 10 or 11 new players in total so it's a completely different team. The club has put a lot of money into staying up.
"I was surprised by the standard – everyone is technically very good. I made my debut last weekend in the national stadium in Bucharest, which was a great experience. It was minus-eight though, which is the coldest I've ever been playing football."
"I wanted to get away from Scotland and try something different. You can get into a bubble in Scotland, where you feel everything revolves around that. I want to see other leagues and experience different training, different ways of playing. It took a long time but it's definitely been worth it."
Should Sepsi avoid relegation from Romanian Liga I, the club holds an option to offer Ross a one-year extension.
He made his debut as a second-half substitute in last weekend's 2-0 defeat to Steaua in the 55,000-capacity Arena Nationala.
Ross left the Caley Jags in 2015 on the back of the Scottish Cup triumph – in his mind the perfect time to go.
Two years at Dundee followed with Ross starting regularly at first under Paul Hartley but, last season, his game-time dropped and he readied himself for another change.
But the calls never came. He thought business might pick up come the end of the transfer window when teams were on the lookout for free agents, however nothing was forthcoming.
After conversations with Caley Thistle coach Scott Kellacher in the summer, he picked up the phone to ask if he could come train with his old team again.
He said: "I got a bit of stick from the boys for going back, asking me when I was going to sign or if I was retiring. I spoke to the manager and he told me to take as long as I needed. He understood my ambitions to play abroad and I sent him a message when I signed here to say thank you as not many clubs would let me train without signing for as long as they did.
"There was never an offer to sign but it was getting to the stage where I thought people had forgotten about me.
"I know I will always be welcomed back and it's good to have that in the back of my mind. But it just wasn't the right thing to do."
Much has changed since the 26-year-old departed two-and-a-half years ago. Much of the backroom staff remain, with groundsman Tommy Cumming and secretary Jim Falconer still kicking about, but just five players do.
He was grateful for the chance to play in a couple of bounce games, including the charity Highland derby against Ross County, and appreciates messages from supporters asking him when he was going to come home.
The ex-Charleston Academy pupil will forever be remembered for "that" goal against Hearts in the 2014 League Cup semi-final.
Ross added: "It's nice to be wanted and I appreciate them asking me to come back. But I wanted to pursue going abroad and I'm glad it worked out."