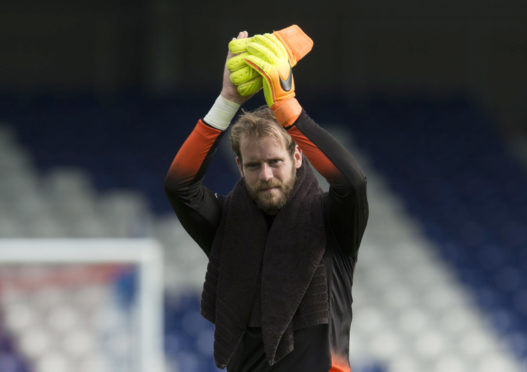 "Don't take me home" was the cry of the Welsh hordes dotting France with blazes of red. Owain Fon Williams was among them.
Wales redrew the boundaries of what was possible from so-called smaller nations at Euro 2016, creating memories for a generation on the way to a semi-final berth.
Fon Williams, at the end of his first season with Caley Thistle, lived it from the inside, high after high. Living out a childhood dream, in the company of Aaron Ramsey, Gareth Bale and company, means he leaves Inverness this summer with no bitterness, only gratitude.
It was playing under John Hughes during his first year in the north of Scotland that earned him his first international cap against Netherlands; "I had always wanted to do that; it's not about how much money you make when you're a kid. All you want to do is put your country's colours on your back." Then a ringside seat in France.
The year that followed was more trauma than triumph. Hughes left, Fon Williams' body was broken and his mind not far behind. Persistent back and groin problems plagued the Welshman, with one game against Hamilton Accies requiring round-the-clock treatment just to get him on the field.
"Come Christmas, I was in pain physically and mentally. Coming from such a high with Wales, which I'd never experienced before, it was difficult.
"I was living off tablets, trying to manage my body to get back on the field. I was asked to do that and I did it. I wanted to do my best. Sadly we fell short and the consequences of that were players had to leave.
"I was taped up to be played but I had nothing left in my body. We all love football and I will always put myself forward no matter what. I couldn't do anything round the house and luckily my partner was in charge of all that. It does get to you when physically you can't do something. You doubt yourself and whether you're going to be OK.
"Maybe I was too honest and I worked myself into the ground. But like a car, if you run it solid without an MOT and a service then it's going to break down. That's exactly what happened."
— Owain Fôn Williams (@owainfon) November 29, 2018
Relegation landed on the club's doorstep not with a bunch of flowers, but an eviction notice. The more established Premiership players, on higher wages, would need to be sold as part of the cost-cutting. Fon Williams was among these.
But when one door closes, another opens. Spending the season on loan at Indy Eleven in USL, body refreshed and pain-free, replenished his love for the game. Player of the season honours and an immense popularity among the Brickyard Battalion – Indy's supporters club – scratched the itch of playing overseas.
He returned by the New Year but bar a couple of appearances on the bench, was seldom seen around the matchday squad again. His last game was a goalless draw against Queen of the South on September 30 2017.
While there are aspects of his time in Inverness he would like to change – relegation being top of the list – he is not one to sit and accumulate regrets.
"I have learned there is no point dwelling on negatives as you never move forward. You're only going to go back. Any situation that's not going my way, I try to flip it into a positive.
"It's been a fantastic four years that I will always cherish. I bought a house here, I love the people and the pace of life. It's a fantastic football club and the potential is enormous."
The Highlands will always have a place in his mind and heart. Fon Williams and his partner Claire welcomed their first child into the world less than a week ago. Cloud nine has two more residents.
"Last Thursday we had a little girl, Sali Mai. It's an unbelievable feeling, hearing her cry for the first time. You can take things for granted at times but this is magical. I'm beside myself at times.
"The people that work in the hospital have been unbelievable. I can't stress how amazing they have been to us. All the help we have been given by so many people makes this even better."
The trio will say goodbye this summer, to their home on the Black Isle and Inverness, but Fon Williams hopes Scotland remains in their future.
"I have fond memories of my time here and while I wish certain things had happened differently, it's been a great move."