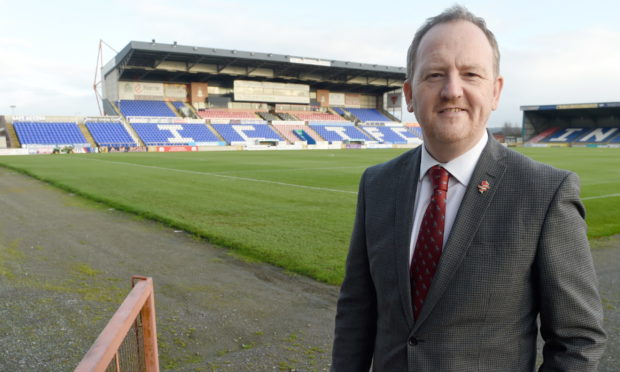 Caley Thistle chief executive Scot Gardiner says the delay until at least August 24 for lower league clubs to return to training does not stand to affect the Highlanders.
Inverness are not planning to start training next month ahead of their return to action in the Betfred Cup group stage in October, with the Gardiner planning to keep Caley Jags' players on furlough for as long as possible.
Although Championship rivals Hearts have been forced to pause training having already returned, Gardiner says Inverness will not be directly impacted by the latest measures from Scottish football's joint response group.
Gardiner said: "It doesn't affect us at the moment – we had not planned to go back until a date in September.
"We are digesting it. Things are moving so quickly, it's difficult for all clubs.
"I'm a bit non-plussed by the statement and the reasoning behind it. I'm struggling with the science of it – I don't know how it was OK for Hearts to train two days ago but now it's not, and it's not for us either.
"I don't get it at all. It's clear, but it's confusing at the same time. We can't bank on anything happening, because it's a moving feast.
"I will be speaking with the manager. At the moment it doesn't look like it impacts us, but if X doesn't happen on August 24 it would do."
The joint response group's measures were issued in the wake of breaches of Covid rules by Aberdeen and Celtic players in recent weeks, and Gardiner says the tightening of restrictions will be felt by all Scottish clubs.
Gardiner added: "It proves how unhelpful the breaches are, because they will have financial consequences for all of us.
"Every time there is a clampdown, which I would see this as, it creates problems for us all.
"It's clear, in saying we can't start back until then. What we've seen is the goalposts can get moved on us very quickly.
"Who knows what will happen between now and August 24?
"It creates a financial and planning uncertainty for every club – not just for us."
Gardiner says Caley Thistle were content with Hearts starting training earlier than the other clubs in their division, adding: "I think it would be reasonable to say we would be seen as one of Hearts' main rivals.
"We had no issue with the fact they had started back because they were able to.
"They were in a scenario where I thought they did what they had to do, and we didn't speak to anybody and say it wasn't fair.
"We have spoken to different clubs and every club has a different date for starting back, some were starting in August and some in September.
"Everyone is setting their own timelines to suit their own position."