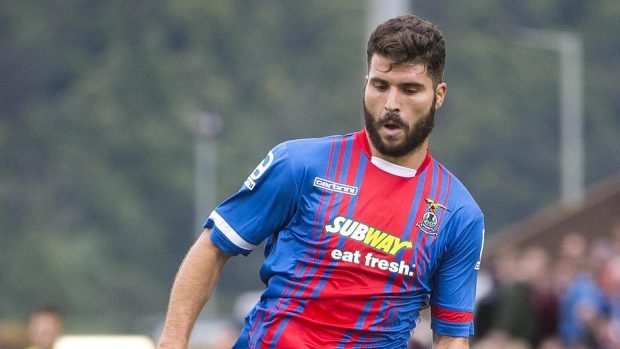 Spanish attacker Dani Lopez has vowed to repay Caley Thistle for giving him a second chance in Scottish football.
The 30-year-old was suspended after allegations he spat at St Johnstone player Neil Martyniuk during an SPFL development match in Inverness last week.
After an investigation, the club announced yesterday Lopez has been fined two weeks' wages in addition to the two-match SFA ban for being sent off in the match.
Lopez, who has scored one goal in 10 appearances for Inverness this season, issued an apology for his part in the incident, accepting he had tarnished his club's reputation.
He said: "With my poor behaviour, I let down the club, supporters and team-mates.
"I would also like to extend my apology to St Johnstone. In addition, I regret the stress caused to my family.
"As an experienced player in a relatively young squad, I should set a good example to others and on this occasion I failed to do so.
"This was very out of character for me and I assure everyone that it won't be repeated, my wish is that we can now move on and I can help the team as much as I can."
Peterhead manager Jim McInally had to handle a similar situation earlier in the season and believes Inverness made the right decision to give Lopez a second chance.
Blue Toon defender Scott Ross was banned for two games after spitting in the direction of Rangers midfielder Nicky Law during a League Cup tie earlier this season.
He was also fined by the Balmoor club and McInally said: "First off, there is no excuse for it. It is a dirty thing to do and nobody should do it.
"But players deserve a second chance though.
"Scott was awfully apologetic about what happened and it looks as though Dani Lopez is exactly the same. Inverness have dealt with it properly. We fined Scott straightaway before any action was taken.
"We had to deal with it. I thought we dealt with it well and I think Inverness have also handled it well."
Caley Thistle chairman Kenny Cameron said the club had no choice but to punish the Spaniard, but hopes Lopez has learned his lesson. He said: "We believe Dani's actions were indefensible. However, we've taken into account his apology and sincere regret for his inappropriate behaviour. He has assured us he has learned a salutary lesson with regard to his future conduct while with this club."