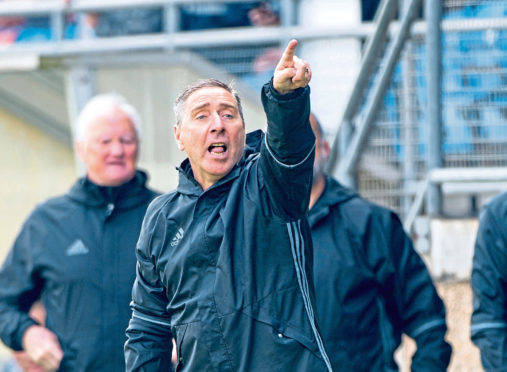 Peterhead manager Jim McInally insists he will not be rushed into making a decision about his future at the club.
McInally had pledged to step down if he failed to lead the Blue Toon back to promotion but has been urged to reconsider by his chairman Rodger Morrison and his players following Saturday's League 1 play-off final defeat to Stenhousemuir.
Peterhead missed out on promotion by a point to Montrose in League 2 and won three of their four play-off matches but it was not enough as their injury-ravaged side failed to overturn a 2-0 first leg defeat at Stenhousemuir in Saturday's second leg at Balmoor.
The Blue Toon boss wants further discussions with the club before deciding whether to carry on at Balmoor.
He said: "I met some of the board after the game on Saturday and they told me to take a few days to think things over and I'm still doing that.
"Ian Grant, the vice-chairman, has invested a lot of time and money in the club too and I'm keen to hear what his thoughts for the future are.
"Rodger is in Spain just now but I'm going to go for a game of golf with Ian and we'll talk things over.
"What he's got to say will determine what I do. He loves the football part of his role but he hates the admin that comes with it and I know he's trying to bring more directors in to take the weight off Rodger and himself.
"I'm so close to Ian now, he's become one of my best mates in my time at Peterhead and I'll talk it through with him."
McInally is disappointed and frustrated his side's excellent campaign has concluded with nothing to show for it but has been grateful for the support from those around him at the club.
He said: "I was so annoyed at what happened last season that I made the pledge I'd step down if we didn't win promotion but the chairman told me on Saturday he was not accepting my resignation and urged me to take my time in deciding what I wanted to do.
"Since Saturday's game against Stenhousemuir I've had Jack Leitch and Simon Ferry phoning me urging me to stay and telling me let's go again together next season.
"We've been so unlucky and to win nine of the last 10 games and not go up is sore to take.
"I love my job and I've been overwhelmed by the support from the board and the players but I feel like I let the people who supported me down.
"That's why I'm taking my time over this."