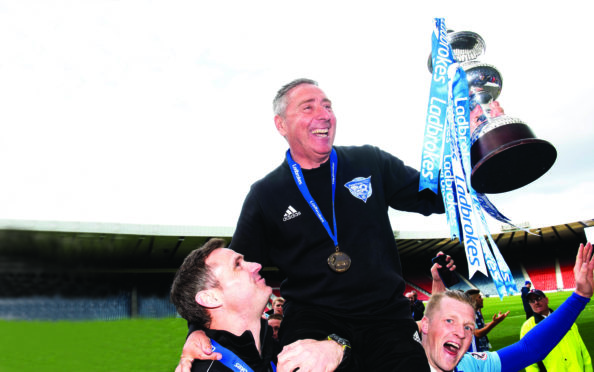 Jim McInally has agreed to stay on as Peterhead manager.
McInally, who guided the Blue Toon to League 2 promotion this season, had been considering his future after the effects of a stressful season.
However, after meeting chairman Rodger Morrison, the ex-Dundee United midfielder has opted to remain in charge and lead the club into League 1 again.
McInally said: "The club and I wanted to go through everything in detail that we went through over the past two summers and decide how best to prepare for the new season. My position was discussed as it was before and whether me staying on was best for all the parties involved.
"It was agreed that I would, so it is now all about preparing for League 1. I have always enjoyed working at Peterhead, but it is only right things are looked at and no assumptions are made by any of the parties involved. It is about doing what is best for Peterhead."
Morrison is delighted his manager's decision to take stock of his time at the club has led to him deciding to stay on.
He said: "Iain and I have spent the last five days in lengthy discussions with Jim. We do that every season to be fair but clearly there was much to discuss at the end of what has been a very challenging but ultimately successful season.
"Jim felt he had let us down when we were relegated two years ago and to then miss out on promotion by a point last season really added to the stress he faced in trying to get us back up this season.
"It was a tough season but Jim got us over the line and we're pleased he has decided to stay with us as we face the new challenge of trying to realise our ambition in League 1 next season."
The Blue Toon chairman insists preparations for the club's return to League 1 are already well underway with McInally leading the hunt for new players to bolster his squad for what Morrison hopes will be another strong campaign by the team.
He said: "It will be more difficult in the league especially as we'll be facing some full-time teams in there but our aim is to make the play-offs. It won't be easy but Montrose have been competitive in League 1 in their first season since winning promotion and we feel we can be too.
"Having Jim on board again can help us achieve that. Jim's decision to stay on gives the players clarity and lets us get on with the task of strengthening the squad for next season.
"Jim has already got a shopping list of targets he wants to bring and he has also been in discussions with the players here at the club.
"We have a good nucleus of a squad here and we expect the bulk of them to be here with us next season."