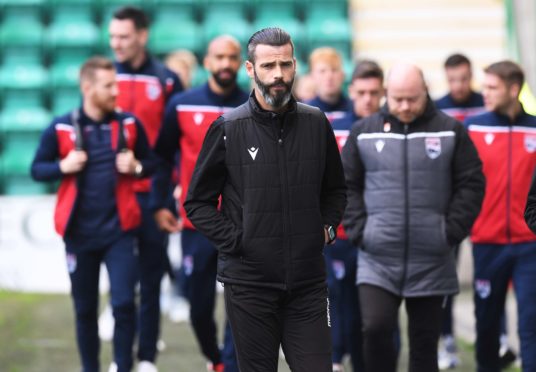 Like most young midfielders, Stuart Kettlewell grew up idolising Steven Gerrard as the ultimate role model.
Tomorrow night, for 90 minutes at least, he will regard the Rangers manager coldly and unemotionally simply as 'the enemy'.
It was the words of another Premier League legend, Roy Keane, that chimed most with the Ross County co-manager this week.
Keane, as television pundit, raged at Liverpool and Manchester United players "hugging and kissing" in the Old Trafford tunnel before a ball was kicked.
Kettlewell, who was a teenage amateur with Queen's Park as Gerrard soared onto the English scene , knows he and his players cannot afford to be starstruck, deferential or welcoming tomorrow evening.
Gerrard arrives with a Rangers side hungry for points to keep pace on Celtic. Kettlewell wants County, sixth in the table, to be just as ruthless and ravenous for points.
The Staggies co-manager said: "Of course, we've all got respect for what someone like Steven Gerrard has achieved in the game.
"I'm no different from any other central midfielder growing up and watching television. Steven Gerrard was the pinnacle of playing that position.
"For many a year, he was peerless in driving a team forward and being the inspiration for a huge football club in Liverpool. But it is not a scenario where we sit back and admire. Myself and Steven Ferguson have to pit our wits against somebody doing a very good job at a massive club.
"For that period of 90 minutes, we're looking only for our team to get a result. Rangers will be doing likewise, to try to maintain the pace at the top of the league. I think you show your respect after a game of football.
"We probably all heard Roy Keane last weekend for the Manchester United against Liverpool match, which I loved. I'm not into all that cuddling and kissing people before games. You're going to war.
"You want three points for your football club. I believe you're cheating everybody if you stand there and admire your opponent and start cuddling your opponent, offering handshakes. You have to go play against them first. The respect comes after."
For all but two of County's previous seven top-flight seasons, Rangers were in turmoil and playing in lower leagues. There is an extra freshness, then, in welcoming them to Victoria Park for only the seventh time since a first 1966 meeting in the Scottish Cup.
Kettlewell stressed: "I think it's a brilliant occasion, to welcome Rangers to Dingwall. There will be a full house here. The pitch is looking fantastic. What's not to like, as a player?
"We have to go into it buoyant and really have a belief in ourselves in what is a brilliant fixture for this football club. There were years in the top league for Ross County when Rangers weren't there, so it still has that extra spark. I think Rangers have an extra spark as well.
"We've all watched them over the last few years when they have maybe come up a little bit short on what everyone would expect. We're seeing a slightly different beast this year, a team that has a greater level of consistency.
"I watched them against Porto and thought it was just a fantastic performance from a Scottish side, away from home against a European giant. That's the type of team we're dealing with and that's what we have to prepare for. It will be a hugely difficult task, but it has to be one we relish.
"At Celtic Park, we all let ourselves down. Here's another opportunity to try to make up for it."