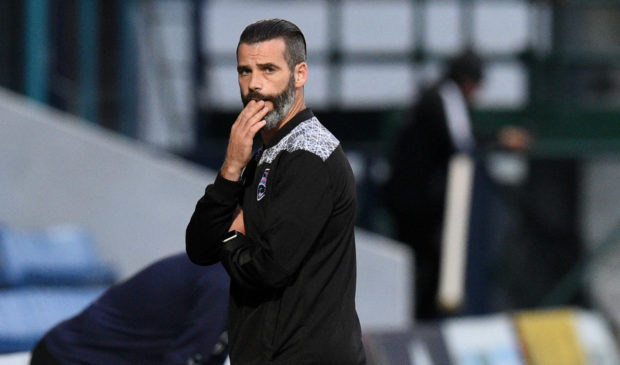 The return of crowds is a small step towards restoring the Victoria Park which Stuart Kettlewell has come to know.
Ross County's game against Celtic on Saturday has been earmarked as a test event with crowds, with the SPFL awaiting the green light from the Scottish government.
As many as three matches from this weekend's Premiership card could be played in front of supporters, including Aberdeen's match against Kilmarnock at Pittodrie.
The Staggies are still awaiting confirmation of the number of fans they will be allowed to admit, with chairman Roy MacGregor anticipating a crowd of between 300 to 750 for the visit of the Hoops.
County manager Kettlewell says the opportunity to play in front of a home crowd following the coronavirus pandemic will be a huge boost for his side.
Kettlewell said: "We make no secret that we would be delighted even if it's in small numbers, just to see some of our supporters back in the ground.
"From speaking to some of the local people, they are desperate to get back in at the earliest opportunity.
"I know a lot of people will miss out, but just as that small step it would be massive for the game.
"There is speculation about what the number will be. If it does happen we have a rough idea of what that number will be.
"Even if it will be small, we understand we have a small following of fans, but they are very loyal.
"Even to get a small percentage of them in will be a huge boost for the players and to myself."
County's opening six matches have been streamed to supporters online, however Kettlewell insists it has been no substitute for the live match day experience.
He added: "It's that principle of people back in watching their team live.
"The whole Ross County TV thing, and the individual clubs having their television stream, has been great for everyone to get an opportunity to watch the games.
"As we all know it's slightly different to being at games. Getting back to games and getting out the house is massive for us all.
"We all live and breathe football, so if you can be in that stadium and witness it with your own eyes it makes it a different experience."
Kettlewell is grateful to the Staggies' staff for their continuing efforts to restore football during the coronavirus pandemic.
He added: "I can't sing the praises of the football club enough.
"People probably look at Ross County in the context of the Premiership and see us being a small club.
"When you actually see what a small band of people have done at this football club – from all my staff and the staff around the football club, to those commercially and Covid officers – they have been absolutely terrific since the start of this whole process.
"The support we have had from the chairman has been terrific to ensure we can hit all the marks.
"It's probably another good opportunity for me to say a thank you. It makes my life easier if this whole testing regime works well, the training and the travel to games is right, and ultimately I have my trust in these people responsible for these tasks to do it correctly.
"That ensures the safety of the players and staff, and allows this to keep rumbling on as best we possibly can."