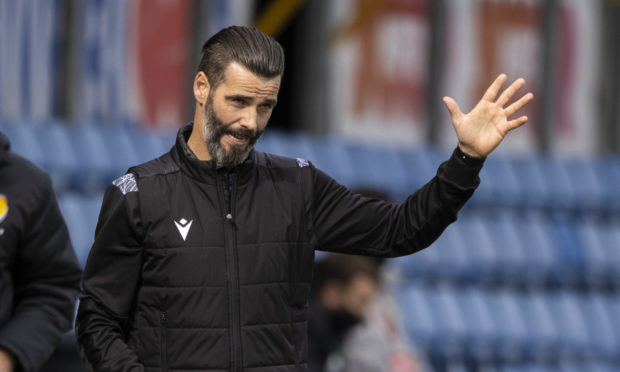 Ross County boss Stuart Kettlewell has challenged his players to cause in-form Rangers problems.
The two sides meet at Ibrox on Sunday, with Rangers racking up momentum at the top of the Scottish Premiership in a bid to stop Celtic's 10th title in a row.
They had also enjoyed a promising in Europe, leading up to last night's game against Galatasaray.
County lost 5-0 to fellow Old Firm side Celtic last month and Kettlewell is under no illusions about the size of their task on Sunday.
However, he has laid the gauntlet down to his players, to find answers to the questions Rangers will pose them.
He said: "Moments in games, even if you're playing poorly, if they go your way then you never know what the outcome's going to be. It's a real tough task – we can all see Rangers are dealing with the pressure well of 10-in-a-row etc, but it's up to us to come up with solutions to a lot of the problems we're going to face on Sunday, to see how we're going to be a threat.
"You can see they're firing on all cylinders with their attacking players, they look like their brimming with confidence. We have to handle them and try curtail them in the game. But what we'll always try and do is to pose a threat to what's been a sturdy backline so far this season.
"Rangers have rightly had so much praise for how steady they've been at the back, the clean sheets they've put in and the away performance in Holland. We know what we're dealing with here. There's always that factor of whether they're off their game and we find our absolute best form. That's what it's going to have to be on Sunday."
Kettlewell admits to being impressed by the work Steven Gerrard has done to make Rangers a more well-rounded unit this season, with just three goals conceded in their nine-game unbeaten league run so far.
He added: "They've been excellent. Domestically there's been a couple of draws in there but in Europe they just seemed to be a well-oiled machine. They're playing a couple of games a week and I always believe that's the best way to go, to keep churning out the games. When it's stop-start it's hard to get a flow and a consistency. You see Rangers have that fluency and consistency at the minute and it's going to be a hard task, but we have to see if we can break that cycle on Sunday.