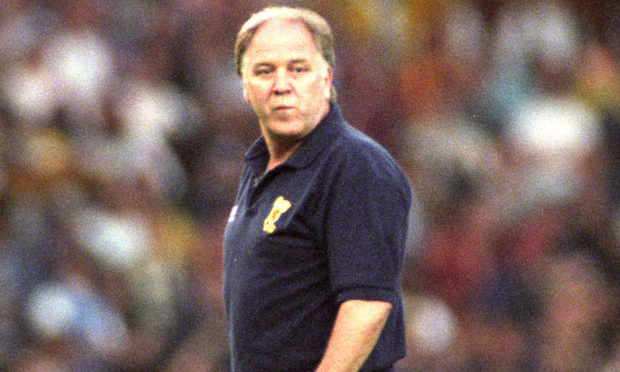 Craig Brown and Gary McAllister chatted on the phone on Sunday night about old times.
The backdrop to it is a game that will always connect the two of them: England v Scotland, Wembley Stadium at Euro 96.
In a bid to fulfil fans' craving for the two most comfortable of bedfellows – football and nostalgia – ITV is replaying the entirety of the tournament on ITV4 and ITV Hub, its on-demand service.
Sunday night came the turn of the memorable game under the Twin Towers, remembered for McAllister's penalty miss and Paul Gascoigne's moment of genius in two breathless minutes.
"I was talking to Gary on the phone on Sunday night and he said 'If I'd have scored that penalty, we'd have definitely won the game'. I agreed with him," said former Scotland manager Brown. "He phoned to talk about the game and I'm sure if he'd scored, it wouldn't have been a draw. It would have been a victory.
"I think that's the first time I've watched the game. I've seen highlights – I've repeatedly seen McAllister's penalty and Gazza's goal."
Alan Shearer had already headed in Gary Neville's cross by the point of the penalty miss. Spoon-bender extraordinaire Uri Geller claimed some credit for the ball moving on the penalty spot prior to McAllister's miss, with David Seaman deflecting the ball behind for a corner.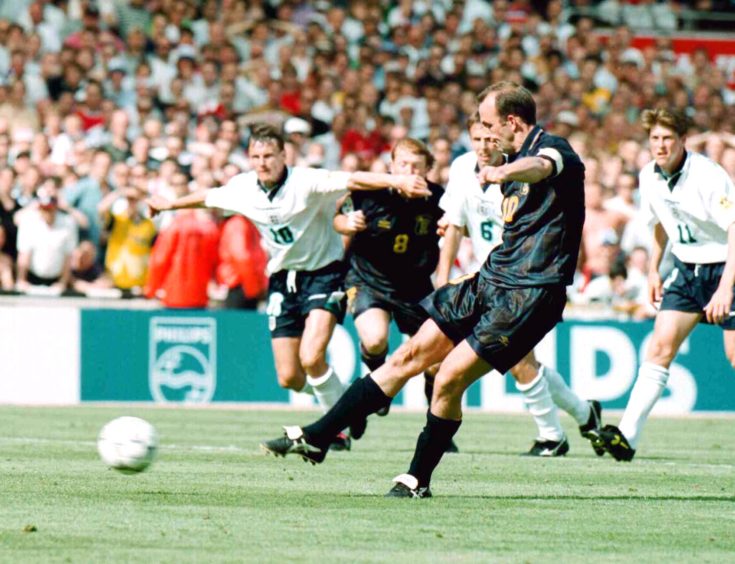 It added to the tales of penalty woe for Brown, who had been on the receiving end of gut-wrenching misses at the World Youth Championships in 1987 and the under-20 World Cup in 1989.
Their 0-0 draw against the Dutch in the first game had them in a reasonable position but defeat to England was a difficult one to wrestle with. It made their final game against Switzerland, to be shown on the ITV Hub at 7pm today, all the more pivotal, albeit with their destiny out of their hands as Netherlands headed to Wembley.
"We did well in the first game against Holland and I thought we did OK against England. We did brilliantly to beat Switzerland with a terrific goal from McCoist. We had a reasonable successful tournament – England were fortunate to qualify before us.
"We had a guy David Findlay, who worked at the SFA as an assistant secretary, and his job was to keep his au fair with what was happening in the England game. I genuinely didn't imagine – all we thought we had to do was win this game. All of a sudden it became apparent we needed another goal. We tried everything; I think at one point we put Colin Hendry up front for the last wee while. Maybe I was mistaken in thinking winning the game would be enough for us. The England game was predictable but I didn't think it would turn out the way it did.
"We went for it late on to try get another goal but it was disappointing, unfortunately. It's one goal, Patrick Kluivert."
Netherlands ultimately went through on goals scored (3-1), with the two sides tied on points and goal-difference. While football was coming home for England, Scotland were heartbreakingly heading home.
There is little regret or sadness from Brown though. Plenty of fond memories still jump to the forefront at the mention of that tournament.
While England's preparations attracted intense media criticism for their boozy trip to the Far East, Scotland jetted off to the other side of the world to New Jersey. A mid-camp concert with Rod Stewart – "the players were invited up on the stage and he did the second half of his concert wearing the Scotland strip" – was as raucous as it got for the Scots.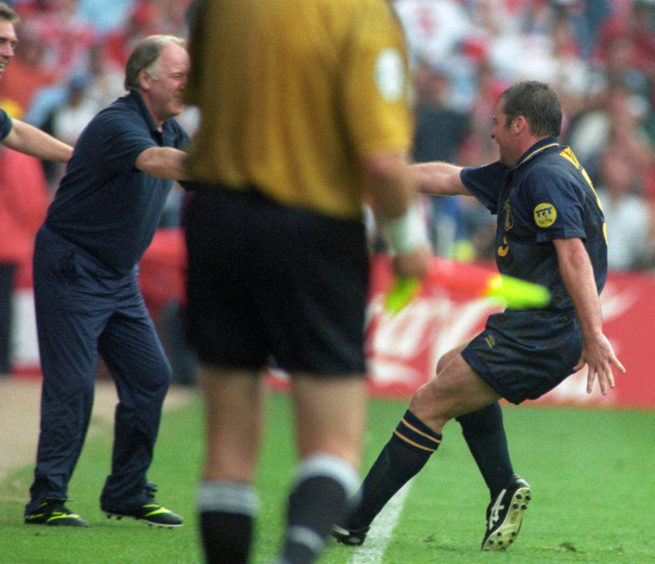 "We were reading and hearing about England's preparation – I thought 'crikey, we have to fly back to London from Newark'. I told every one of the players that they had to go back wearing the blazer. There would be no alcohol at all. I have never seen as many press waiting for a drunken Scottish team to come off the flight. I never forget Ally (McCoist) came up to me and said 'I can see the headline now – Scots in sober sensation'.
"The occasion was good. The atmosphere and Scottish support was incredible. We were told when I got the job that if we didn't qualify for Euro 96, you were sacked because it's right next door. You couldn't get a European Championship as handy for the Tartan Army. The same happened for the World Cup in France. The pressure on you to qualify for those events was considerable.
"I'm not a nostalgic kind of guy, I don't get emotional. You have regrets but you have more positives than negatives. Even though we didn't qualify from the group, I think we played well in England. I don't think anyone would complain about the performances of the Scotland team. But it was so near yet so far. The usual."