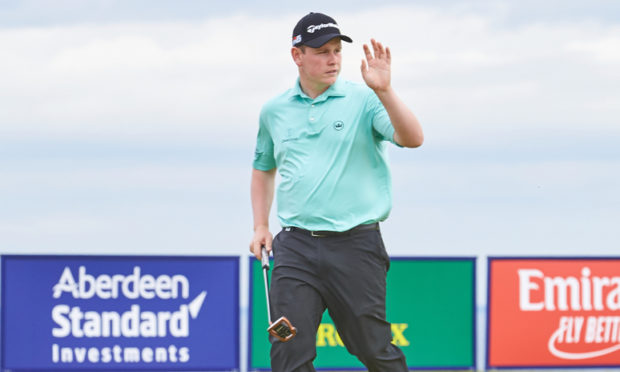 Oban's Robert MacIntyre hopes a strong community spirit can help his hometown course Glencruitten to cope with its shutdown during the coronavirus pandemic.
With the European Tour season having ground to a halt amidst the virus MacIntyre is back in Oban where his house overlooks his local club, at which his father Dougie is greenkeeper.
The current scene at Glencruitten is a forlorn sight however, with the course fully shut down during the government's restriction orders to prevent the spread of the illness.
When asked if he feared if his local course could struggle, MacIntyre, who is Scotland's top-ranked player at 67th in the world, said: "Yes, I do. I think there's a lot of courses that's going to happen to.
"We're such a small community and with so many different sports that the golf course isn't there to make money, it's there just to survive.
"That was through functions and all the visitors. Now this has happened it's knocked it on the head and there's no functions at all, anywhere.
"That was our main income at the club so now it's just about battening up the hatches and trying to just hold out.
"My dad is not working, it's all shut down. It's looking doom and gloom just now, but a lot of folk out walking dogs and stuff, which is sad to see when it's such a good wee golf course.
"It was the only form exercise for about a week and a half there when every other sport was shut down. It's just something that needed to be done."
MacIntyre had been nursing a hand injury towards the end of his memorable rookie of the year winning season on the European Tour, which had continued to cause him problems at the start of this year.
The 23-year-old hopes to use his extended break to implement a change of grip which he is confident can tackle the issue.
He added: "This break has actually come at a good time for me. My hand was bothering me since the Open Championship last year so it has been a bit of an ongoing issue. I battled gone through it and had eight weeks off at the end of last year.
"I thought that had fixed it, but I turned up in Abu Dhabi and I could hardly hit the ball. I managed to get through it at the start of the season, but now I have a decent break it should be fully healed and ready to go when we start up.
"We did a lot of research on it. All I had to do is change my grip slightly and that should cure it. It was just repetition, the way my hand was flipping over.
"It was putting me into a position where my hand wasn't comfortable and that is the main reason we are changing it."
Uncertainty remains about when resumption of the European Tour season, with the Trophee Hassan II in Morocco in early June the next scheduled event which has yet to be cancelled or postponed.
MacIntyre is keen to make the most of his downtime, with the Aberdeen Standard Investments ambassador adding: "My dad and I built a wee practice net in the garden a couple of days ago. I'm just going to work on things there, pretty much all technique. I'll just get the grip down and send videos back and forwards to Davy.
"The net is only about 12 or 15 feet from the mat. We've got plenty of room. We've got the golf course over the net so we can hit whatever we really want.
"I would rather be out competing but at this time it is just about trying to better myself, get myself fitter, get my swing better and just get on with it.
"It is not the time to be sitting about doing nothing. I'm just trying to stay active and keep moving."