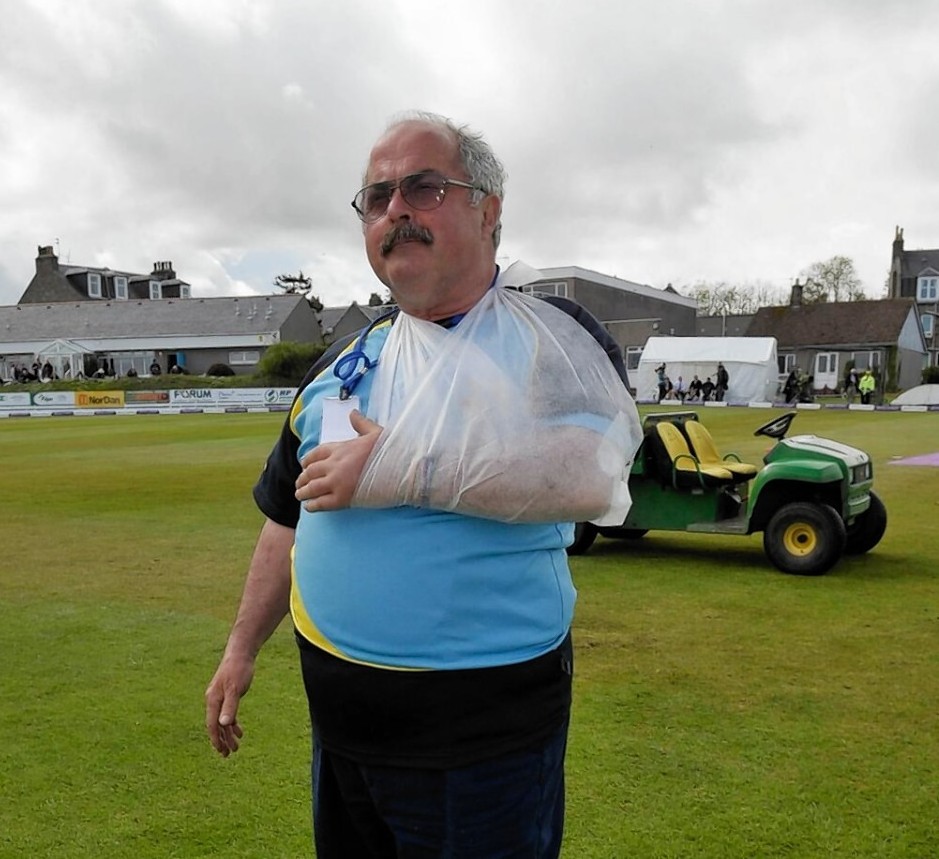 Aberdeenshire cricket club's groundsman Ken McCurdie insists he will not let having one working arm prevent him from keeping Mannofield in pristine condition.
McCurdie, one of the best groundsmen in the country, is nursing an elbow injury he suffered in preparing Mannofield for the one-day international between Scotland and England on Friday, a game won by the tourists by 39 runs after severe rain delays reduced the match to 20 overs per side.
An accident while pushing a lever on the water removal machine at the ground left McCurdie requiring medical attention, but he still carried on his duties despite having his arm in a sling and is confident he will be able to carry out his duties at the club.
McCurdie said: "The X-ray showed I have torn a muscle in my elbow and the recovery will be eight to 10 weeks. It may require surgery to stitch the muscle back, but I won't know until it's assessed again in a couple of weeks.
"But I can still talk which means the guys at the club will still hear me barking orders.
"I've taken today off as I'm sore due to the probing and prodding of the elbow yesterday and have left the guys at the club to the cleaning up operation from Friday, but I will be back in tomorrow to help pick-up the pieces."
Despite his setback McCurdie insists the ground is in good hands and his limitations will not affect the preparation for matches.
He said: "I'm fortunate to have Hamish Lewis, the professional with Gordonians this season, as my assistant this summer. Hamish has worked in grounds in New Zealand, where he is from, and in Australia in the past so he knows what he is doing and is a great right hand man for me.
"If we need to recruit short-term cover for some of the duties we will look at it but on the whole it will be business as usual."
McCurdie is grateful to the England cricket team's medical staff for treating him at Mannofield on Friday which allowed him to continue working before the match.
He said: "I was lucky in that England's physio had an ultrasound scanner which meant I was able to be assessed at the ground on Friday. I was told nothing was broken but there could be a muscle tear and I had that confirmed."