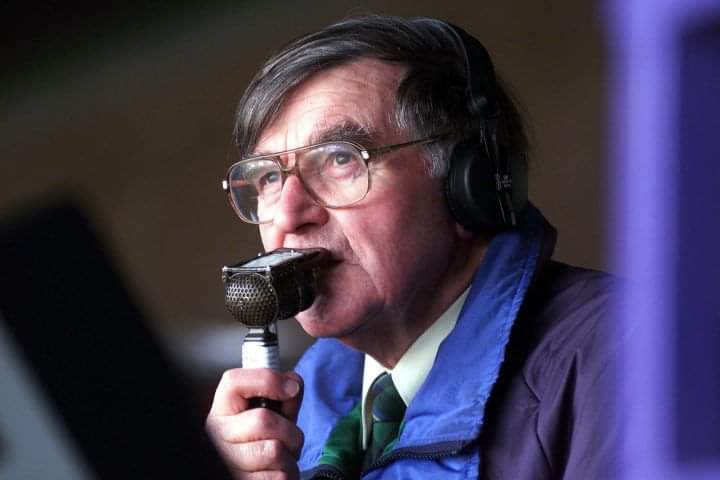 Was there ever a sporting commentator who painted such a multitude of pictures throughout his career as Bill McLaren?
Other pursuits have their champions, whether it's Dan Maskell in tennis, John Arlott or Richie Benaud in cricket, Peter O'Sullevan in racing or Kenneth Wolstenholme in football.
Yet, when the news surfaced 10 years ago this month that McLaren had died, aged 86, in his beloved Borders, it was one of those moments where millions of people across the world, who had never met the man, but heard his mellifluous tones, stopped for a instant, suddenly enveloped by sadness.
Why was he so special that even folk with little or no interest in rugby, were enthralled by his inimitable TV commentaries, which began in 1960 and continued all the way through to 2002?
On one occasion, while travelling to a Scotland press conference in Dunedin in 1996, I only had to mention my origins for my taxi driver to start chatting about the characters he regarded as the three sages of the Caledonian game: namely, Jim Telfer, John Rutherford and McLaren.
The cabbie had never even visited Scotland, but he had ample tales to relate and memories to recall about listening to Bill on his rickety old wireless in the land of the Long White Cloud. And his opinion was shared by a multitude of others.
He never used 20 words where four or five would suffice. He was able to blend pawky humour with technical expertise and lashings of PE knowledge, absorbed from his time at Woolmanhill College in Aberdeen. Then, of course, there was the voice, as rich and smooth as finest caramel.
Some players were "rampant stags", others "mad giraffes", a kick might "hirple" through the posts, an elusive scrum-half was "as slippery as a baggy in a Borders burn" and an outbreak of fisticuffs was a "wee bit of argy-bargy". When it rained, the participants were "drookit rats". And listeners lapped this up from Dunbar to Durban, and Wellington to Wick.
As the Australian legend, David Campese, told me: "Growing up, I was transfixed by Bill's commentary and I could tell, even before I met him, that he must have been a terrific teacher. He worked tirelessly and researched all manner of facts and statistics, so that when he picked up the microphone, he could make it all sound so easy.
"I can't express it any other way, Bill WAS rugby, and nobody else will ever compare with him. He was a great man, a great mate, and he was Hawick through and through. He and his home town were inseparable and they always will be."
As his career developed, McLaren was offered the opportunity to extend his talents beyond rugby, but he was happy with his lot. The sport might have suffered many problems in his homeland since the advent of professionalism, but he never stopped spreading the gospel.
As he explained: "Why rugby? Well, I suppose it is the fact it gives everybody the chance to play their part on the field. As a PE teacher, that was a blessing. The skinny kids could go out on the wing, the wee nippers could play at No 9 or 10, and the bigger, more muscular children in the class could learn about working together as part of the scrum.
"I remember watching a football match in Glasgow, where this giant lad kept scoring goals for fun against tiny, wee defenders and I thought to myself: 'That's not a fair contest'. I'm not criticising football for the sake of it, but it always struck me rugby had a lot more going for it, in terms of making everybody feel that they could work for their team."
Nowadays, too many microphone merchants indulge in hyperbole and use words such as "tragedy" and "disaster" in describing a dropped catch or a missed penalty kick.
McLaren was never guilty of that failing. He witnessed terrible slaughter and carnage while fighting at the Battle of Monte Cassino in Italy during the Second World War and he never forget that, by comparison, rugby was only a game.
These myriad different qualities made him a remarkable individual and the Bill McLaren Foundation, established a decade ago, has built on his life and created all manner of fundraising initiatives wherever rugby is played.
Ultimately, he was a unique human being and the aforementioned Telfer, a renowned performer and coach with a global reputation in his own right, has no doubt about his place in the pantheon.
As he said: "Bill was like Robert Burns; an ordinary man who was universally known. He was one in a million and he educated so many people, whether at school, or on TV.
"There aren't many who leave an indelible impression on everybody they meet, but Bill was one of them."
It's no wonder that so many mourners packed into the pews of Teviot Parish Church on a chilly January day in 2010. They have never forgotten him.
And they never will.