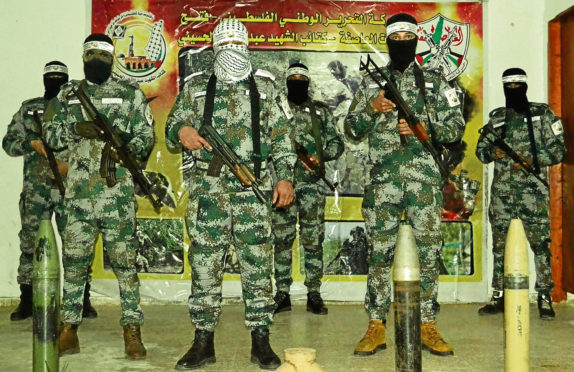 Fascinated by the lives of others, George R Mitchell gets under the skin of a country, often uncovering the dark corners of culture, politics and people. He now has 25 years of off-grid travel and 85 countries under his belt, and he's in no mood to stop just yet…
As I mentioned last week, I was warned that I may be blindfolded in advance. That thankfully did not happen. I was about to meet the armed masked men of the Abd al-Qadir al-Husayni Brigades inside the Gaza Strip. I had no idea what to expect. I'm not the powerful BBC with a support team behind me. It was just my fixer, Rami, and myself.
Some of you will probably criticise me for meeting these people. You may think that I should not be giving them the oxygen of publicity. I understand that. But after hearing from ordinary Gazans about who they blame for the situation they are in, and that that criticism is not all directed at Israel, I felt it only right to interview a group of people who are directly involved in conflict with Israel.
If I'm ever challenged by any authorities to provide information on the whereabouts of this group, I can answer with total honestly, I have no idea where they are. I was driven in the darkness to an undisclosed destination; the building looked like any other in Gaza. I could also never identify any of the men present, for all I saw was their eyes. They could walk past me in the street in civilian clothing and I wouldn't know them from Adam.
I was shown into a building, down a flight of stairs and into a basement. As I entered, I saw a sight I have never seen before, and am not sure I ever want to again. Six armed and masked men were standing to attention, waiting for my arrival.
Rami introduced me and I was told I could photograph the group at will. I did so. How did I feel? I don't know what to tell you. I was on automatic pilot. There was a tension in the room. I was nervous, but so were they. My every move was watched from behind me by unmasked men. I kept looking at Rami, who nodded in reply as if to say, it's all OK. A selection of shells were taken out of a room and laid out in front of the armed men. I continued taking photos, from various angles, very wary of not taking photos of the unmasked men.
Now it was time to interview the masked leader of the group, with Rami as my interpreter.
I sat down, the leader pulled up a chair, sitting directly in front of me. Behind him stood five masked men, their guns held across their chests. They looked down and directly at me. Now I was feeling nervous. I could hear the evening call to prayer from outside in the streets. I composed myself and began.
George Mitchell: "Who is firing the rockets into Israel; it's not just Hamas is it?" Masked leader: "No, lots of Palestinian factions fire rockets into Israel, to resist the occupation. It's the only way we can defend ourselves against Israel."
GM: "When I see on the news that innocent children have died in Gaza due to Israeli fire, it upsets me and many in the west. But I want to ask you, what happens when a rocket fired from you, or another group in Gaza, lands in Israel and innocent Jews die. Where's your justification for that? How do you feel about this?"
GM: "In Islam, it is forbidden to attack women or children. One Palestinian fighter in Nablus in the West Bank attacked a Jewish settler in his car; the man's wife and child were in the car, but he did not harm them, only the settler. We condemn all attacks against children."
But innocent Jews have died, that I know. It was obvious I wasn't going to get an apology about Jewish casualties. Also, they seem to class Jewish settlers alongside Israeli soldiers, ie legitimate targets.
GM: "I am led to believe that many rockets that were fired into Israel were stored inside mosques in Gaza, is this true?"
ML: "This is brainwashing from the Zionist media."
GM: "So, you're telling me that no groups put rockets inside mosques?"
ML: "Never. The mosque is for Allah, nothing else."
But I've been told that mosques were indeed used to store rockets. Maybe not by this group, but it has happened. Looking at their shells and guns I said: "This looks expensive gear. Where does the money come from?"
ML: "In Fatah movement, we have many connections and many people support us…"
GM: "Does any money come from Iran?"
ML: "No funding outside Gaza comes to our group, just from Palestinians, leaders from Fatah and people who believe in our resistance." GM: "Hundreds of millions of pounds and dollars in aid is sent to the Palestinian Authority (PA) from the international community.
"There have been numerous reports that if a Palestinian kills an Israeli soldier, and he then goes to jail, his family is paid big money, every month. Is this true?"
I got a long-winded answer not connected to my question so I tried again.
GM: "Is money being paid to any prisoner's family by the PA?"
ML: "There is a misunderstanding about this…" The leader went on to talk about the Geneva Convention and prisoners' rights and visitation rights, so I asked my question again, but didn't get a straight answer.
It is well reported that such payments do take place. It's known as a "martyr's fund". In 2017 alone, in excess of $300million was paid to the families of convicted Palestinians who have attacked and or killed Israelis.
GM: "How many fighters do you have in Gaza?"
ML: "We have 7,000 men. And in our group we have two Christians."
Two Christians? That astonished me.
Seven thousand fighters is a sizeable number, but nothing compared to the might of the Israeli army.
I asked him: "Do you seriously believe that you can defeat Israel?"
ML: "We believe in our struggle against the Israeli occupation, Allah promised us victory in the end."
GM: "Do you hate Jews?"
ML: "No. We respect all religions. Palestine is the only Arab country where there is no conflict between the religions.
"We are not fighting the Israelis because they are Jewish, it's because they are occupying our land. We have a lot of Christian friends, we visit them and say God bless them, there's no difference between us and Christians."
I was sitting with armed masked men. I asked him directly: "What about me? Am I safe here?"
"Yes you are. Nothing will happen to you," he assured me.
I mentioned that people have been attacked in Jerusalem after Friday prayers. Not just soldiers, but civilians. I said that I felt threatened and wore a stab vest while there. He replied: "Palestinians know the enemy, no journalists are being attacked. We just attack Israeli soldiers, the soldiers who kill our women and children."
But I know for a fact that especially in the past couple of years, pedestrians including children have died in attacks in Jerusalem.
GM: "I guess you have many meeting places such as this in the Gaza Strip. I presume that Israel does not know where you are, or you wouldn't still be alive. How do you hide 7,000 fighters?"
ML: "That's our business."
Our interview was over. The leader stood up and we shook hands. As I thanked him for his time, I remember saying out loud: "I can't quite believe I'm here." The masked men quickly disappeared and I never saw them again. I was then served hot sweet tea and after some small talk with others, Rami and I left. My head was spinning.
They promised me an interview, on condition it was fair and that I reported what they told me. I've done that. So, combine this interview with the other Gazan columns I'm writing, and I'll leave it up to you, the reader, to decide what you think.
My full interview with the Abd al-Qadir al-Husayni Brigades will be in my next book – We All Bleed The Same Colour.
I had not felt threatened during this interview. Nervous yes, but not threatened. However, back in my hotel room later that night, as I mulled it over and over, I am not ashamed to admit, that for the first time, the thought of being in the same room as masked armed men scared me. This group, of course, is not the only one in Gaza which is fighting Israel. Another interview had therefore been arranged with a Mr Daoud Shihab. He is the leader of Islamic Jihad.