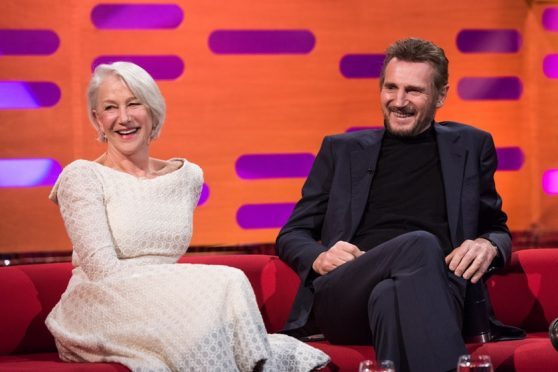 Liam Neeson has told Dame Helen Mirren how he became "smitten" with her more than 30 years ago.
The stars were an item in the 1980s after falling for each other on the set of the film Excalibur.
Appearing with Dame Helen on The Graham Norton Show, Neeson, 65, tells her: "I remember being on the set and standing with Ciaran Hinds as Helen walked towards us dressed in her full Morgana costume and we both went, 'Oh f***' and I was smitten.
"I think Ciaran was too but I was very smitten!"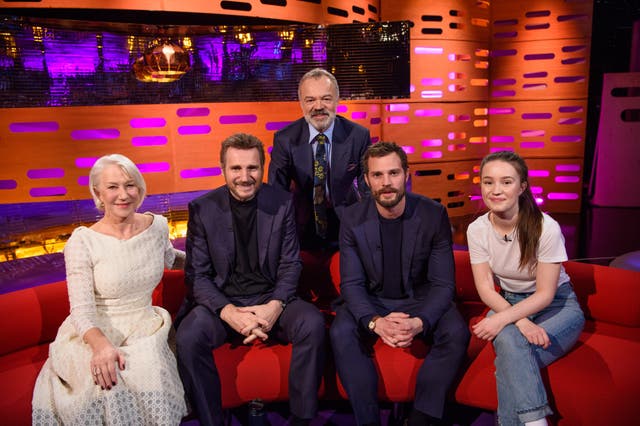 Dame Helen, 72, exclaims: "I never knew that. You've never told me that before – it's amazing."
The Oscar-winning actress, who is married to director Taylor Hackford, tells Norton and fellow chat show guest Jamie Dornan: "We lived together for four years – we were a serious item for a while. Lucky me!"
Neeson says that he knew the star fancied him because she imitated his walk.
"Before I met her and we worked together I had read somewhere that if she fancied a guy she would imitate his walk behind his back and I turned around one day and she was doing that to me!"
The Graham Norton Show, which also sees singer Sigrid perform in the studio, airs on BBC1 today at 10.35pm.