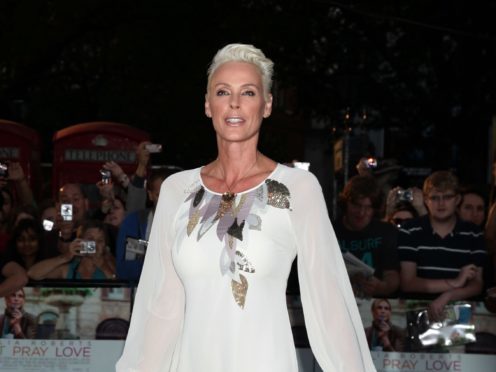 Actress Brigitte Nielsen has said there is a "double standard" for men and women after she was criticised for having a baby at the age of 54.
The model and actress welcomed daughter Frida in June – her fifth child, and first with 39-year-old husband Mattia Dessi.
Nielsen, now 55, started undergoing IVF treatment 14 years ago in order to fall pregnant.
She told ITV's Good Morning Britain: "There's definitely a double standard because it seems like men in their sixties, seventies, eighties and even nineties, they have children and no-one raises an eyebrow.
"I am maybe the oldest mother in America, it's possible. People say 'Well, why? Maybe you're not alive in 20 years, is that the right responsibility to have a little girl?'
"I think a child needs so much a mother but also so much a father. I wish I had a crystal ball.
"You do not know where you're going to be in 20 years from now. All you can do is to give your best, live every day the fullest, you only have one life. Live it, go for it and that's exactly what I've done."
She continued: "I do understand if people disagree and find it absolutely insane, because probably me, when I was 30 and I heard someone was 54 and was pregnant I would probably have said, 'Oh my god, I can't believe they are doing that'.
"So people have the right to do that. But I'm a mature woman, I'm like a good wine, it's my life, I'm in the best time of my life."
Nielsen added she felt well prepared for her fifth child because of her four grown-up sons, Raoul Meyer Jr, 23; Douglas Meyer, 25; Killian Gastineau, 28; and Julian Winding, 34.
She added: "I kind of knew what was coming for me, and it's fantastic.
"I am tired but I call it the happy tired, it gives you that inner energy that is so fantastic. I am super proud.
"I'd love to tell all the women out there in their thirties, preserve your eggs, just in case you wake up one day, and you think, 'oh my god, I didn't have a kid', there is a chance."
Asked how she will feel doing the school run as a mother in her seventies, she said: "Women, we want to look good. Taking her to school, of course there is that thought there.
"How will my daughter feel about having her mother that's going to be 70 when she's 15 driving her to school? I'm so lucky that I married a husband that's 15 years younger than me. And since I don't like to wake up that early in the morning, maybe he'll drive her to school."