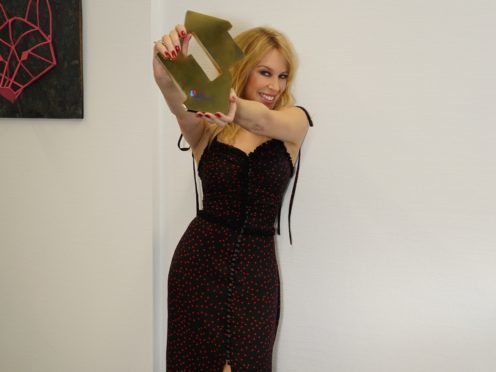 Kylie Minogue has said she is "overwhelmed" to have scored a number one with her new album Golden.
The Australian pop star's country-inspired pop record sold 48,000 combined sales to debut in pole position, the Official Charts Company said.
It marks her sixth UK number one overall.
Minogue told OfficialCharts.com: "I don't know where to start… Thank you to everybody who has been involved in getting Golden to number one.
"I am so overwhelmed, happy, proud, emotional and very, very thankful and grateful. Much love and many, many, many thanks."
Golden is Minogue's 14th studio album, and her first number one record in eight years.
Her previous chart toppers are Kylie (1988), Enjoy Yourself (1989), Fever (2001) and Aphrodite (2010), as well as her 1992 Greatest Hits compilation album.
The album has also been revealed to be number one on the Official Albums Chart, having shifted 6,400 copies on vinyl and becoming the fastest-selling vinyl album of 2018 so far.
She has pushed last week's number one, The Greatest Showman soundtrack, into second place, outselling it by 13,000 copies.
George Ezra's Staying At Tamara's is at number three this week, while US rockers Thirty Seconds To Mars debut at number four with their new album America and the Courteeners are at number five with St. Jude Re: Wired.
US rapper Cardi B has achieved a top 10 slot for her hotly-anticipated debut album Invasion Of Privacy, debuting at number six.
Over on the singles chart, Drake has landed his second number one of the year with Nice For What.
The Canadian rapper's new track was dropped as a surprise last week, and has pushed last week's number one – Freaky Friday by Lil Dicky featuring Chris Brown – down to number two.
Earlier this year, Drake ruled the charts as his single God's Plan remained at number one for nine weeks.
New to the top five this week is Dua Lipa and Calvin Harris's One Kiss, in at number three.
Friends by Marshmello and Anne-Marie is at number four, and Ezra's Paradise rounds off the top five.