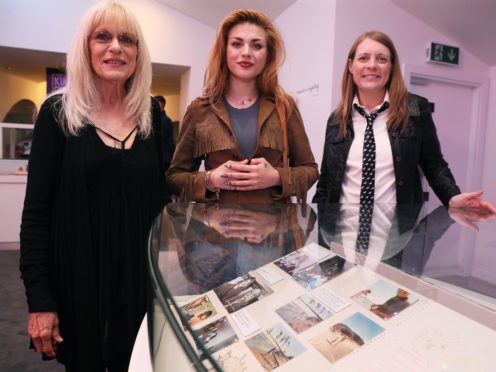 The family of rock star Kurt Cobain has said that a rare exhibition of his personal belongings in Ireland show how "silly, goofy and sweet" the legendary singer was.
The display of the late Nirvana frontman's personal collection includes his clothes, sketches, hand-written lyrics and the only car he ever owned during his life, a powder blue 1965 Dodge Dart.
The star's mother Wendy O'Connor, sister Kim Cobain and daughter Frances Bean Cobain attended the opening of the Growing Up Kurt Cobain Exhibition in Newbridge, Co Kildare to celebrate his Irish heritage.
Cobain's Irish roots are well known, and while the singer believed that his family originated from Co Cork, his Irish ancestors emigrated from Carrickmore in Co Tyrone in 1875.
His family specially curated some of his very personal items for the commemoration.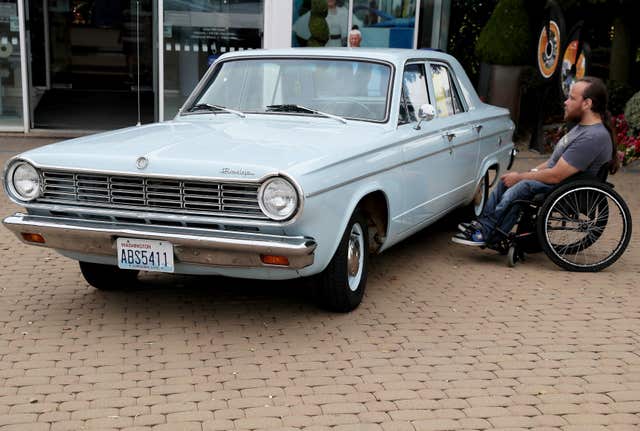 The Museum of Style Icons will house Kurt's drawings and sketches along with clothing, hand-written lyrics and video footage from his childhood until September 30.
His mother Wendy said: "I think it shows who he really was, the real person inside before he got famous."
Cobain's sister Kim said that the family "wanted to bring him back to his roots".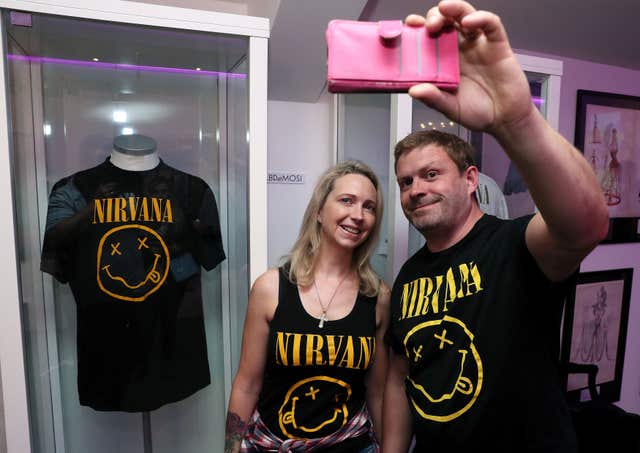 "We just wanted to bring him back to where he came from and the person that he really was as a child and try to focus more on his art and him and to show people just how silly, goofy and sweet he was.
"We want to bring focus back to the light-heartedness and happiness that he had in his life and not focus on all the negative crap that happened later.
"We all have a lot of Irish in us and it's our first time here and we are enjoying it very much and can't wait to see more."
The family said they will explore Ireland's countryside where they plan to "ride some horses" and "eat good food".
"I know he really enjoyed it here (Ireland), he did come and I think he was trying to look more into his roots and where he came from.
"I'm sure his Irish roots influenced his art," Kim added.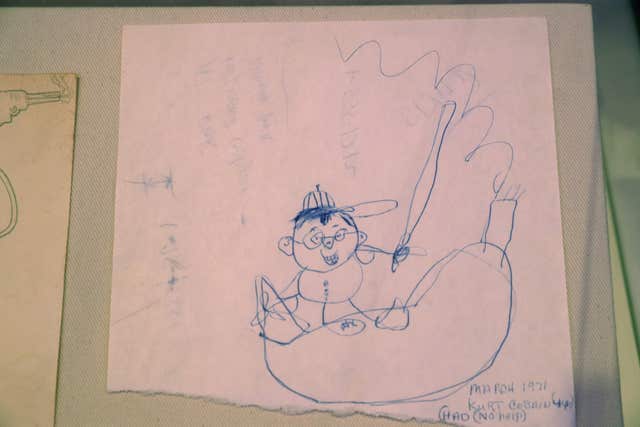 Cobain and Courtney Love's daughter, Frances, 25, said that she thinks of her dad every day.
"He's unavoidable in my life, I see a Nirvana shirt every day," she said.
"My dynamic with Kurt is probably more similar to a fan's dynamic as there's almost like an untouchable thing.
"All the information I have [about him] is from stories.
"He's there every day of my life.
"On some days it feels a little frustrating, like I've had emotional breakdowns in Ubers and he's come on [the radio] and I've been like 'I needed you so much right now'. It plays out on different days in different ways."
Wendy said she also thinks of the star every day.
"He lives in me every day, there's so many memories and it's always different," she added.
His mother also recalled the first time she heard a recording of the American rock band, Nirvana.
"He came home to visit and he said 'mom could I put a tape on the stereo', he said it was his recording. He put on Teen Spirit, I couldn't believe it, the hair on my arms stood up and I got a heaviness in my chest and told him it will send him to the moon and back and will change everything.
"I told him he couldn't handle it, I was scared to death for him. It just exploded."
Speaking about the rare collection, Frances – who is a visual artist and model, described it as one the "best experiences".
She continued: "Every time someone comes up to me and tells me how Kurt's art has altered their perspective or changed their life or informed their relationship with art or people, that is a gift.
"Art is transcendent and when it's good art there is no timeline for it, it's one of the most powerful things in the world and something I'm super grateful for.
"That energy is so powerful, it's translated into how I make my own art and how I hope to do my own art, not that I want to do what he did.
"My favourite item is 'chim chim' – a little rubber monkey with this battery bomb on the back of it, I thought my mom had lost it and when I walked in I was happy to see it."