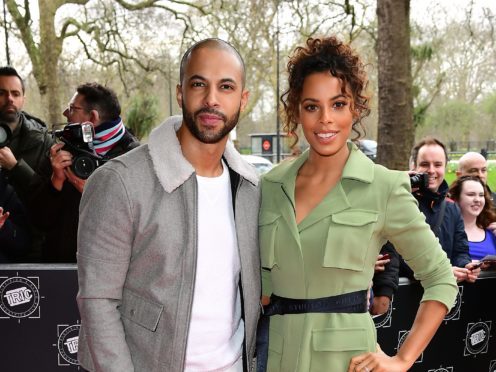 Rochelle Humes and said she hopes she plans to renew her wedding vows with husband Marvin when the couple celebrate their 10th wedding anniversary.
The Saturdays star married the JLS singer in 2012 in a star-studded ceremony at Blenheim Palace.
Now Humes has said seeing her friend Emma Willis renew her vows with husband Matt has made her want to do something similar.
She said: "Would it tempt me to do the same? Yes! Marvin and I always said that we could do that at 10 years, we'll definitely do it! He can ask me again.
"We have been married six and a bit years now. I think it's a lovely idea. Maybe we would go away or something.
"I love a big holiday. Somewhere close enough so that everyone would come."
Speaking about attending the ceremony, she said: "It was so nice, it was so special and a lovely day. Emma is a good friend of ours.
"They said if they got to 10 years, they would come back and do it all again.
"She made us all wear wedding dresses. It was so nice.
"You don't often get the chance to wear it again, although I didn't wear my original wedding dress. I just bought one for the day!
"I was 23 when I got married, plus it was so hot, I just had a nice, maxi dress really!
"I've had two kids, I didn't have hips before. There is no way I could get into it (my original dress). I wouldn't be able to zip it up. There would be a big gap.
"I thought, 'I'm not going to even depress myself and try it on. I'm going to loan a dress for the day'. Emma wore the same dress."
Humes, who will fill in for Lorraine Kelly on her ITV daytime talk show next week, said she is also open to having more children.
She is already mother to daughters Alaia, five, and Valentina, one.
She said: "I am one of those people who will be forever broody, always.
"I have still got a young one, she's only one and a half.
"A baby will always make me broody but it's whether it makes me broody enough!
"We can man mark quite well at the moment, a child per parent.
"You get used to two, at first you don't think you can go up from one to two children.
"But I had quite a gap, four years, between my two. So it was quite nice as I had a little helper in Alaia.
"I couldn't have had another one any sooner, I was still getting my head round it and I still had baby brain! But, I guess never say never.
Humes added that her oldest child is also showing signs of an affinity for life in the limelight, saying: "She is very, 'Look at me, take a picture of me'. Who knows?
"I will let them make that decision when they are ready. I am so happy with what I am doing.
"I think Marvin and I will do more work together but apart from that, I just feel really, really happy. It's a great place to be.
"I have a really nice balance between home life and work life. I'm not sure that taking on more would make me sacrifice something and tip the balance."
ITV's Lorraine is on weekdays at 8.30am.