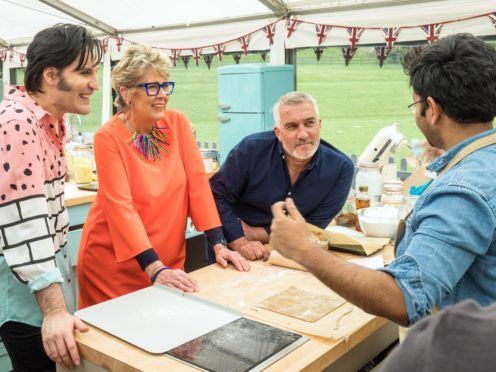 Great British Bake Off contestant Dan had viewers in stitches with his creation of a biscuit baby that looked like "something else" in a classic episode of the popular programme.
Another highlight saw Terry enthrall, and terrify, viewers with an eerily lifelike biscuit creation of his own face in the first episode of the new series.
The 12 amateur bakers were tasked with creating a number of different biscuit bakes in the first episode of the new series, but one stood out among the crowd.
Stay-at-home father Dan created a Palm Springs-themed biscuit centrepiece for the showstopper challenge, a 3D selfie portrait constructed from biscuits and using icing.
He was inspired by the first time he and his husband met their baby, who was born via a surrogate.
The pair had gone to the Californian location to spend time with their new addition.
Dan, 36, created a biscuit version of himself holding a new-born baby swaddled in a pink blanket, but one of his fellow contestants joked that it looked like "something else".
Judge Paul Hollywood said: "The baby looks like a massive prawn."
Viewers agreed that the picture had more than a passing reference to a particular body part, with one asking: "On a scale of 1 to Snail Bread, how penisy was that biscuit baby?"
Another said it was a bit "X-rated".
Elsewhere, Terry, a 56-year-old retired air steward, drew on his background as a prosthetic technician for his showstopper effort.
He opted to use a brandy snap recipe, draping it over a plaster cast mould of his own face for a final result that stood out in the tent.
The spookily realistic biscuit was praised as "ingenious" by Hollywood, while his co-star Prue Leith said it was "brilliant".
But some viewers had a different take on the showstopper, with a handful comparing it to a frightening 3D image created by Friends character Phoebe Buffay, among other things.
One viewer described Terry as "the Van Gogh of our time", while others confessed to being quite terrified by it.
The Great British Bake Off continues at 8pm on Tuesday on Channel 4.