 A former Metropolitan police officer was accused of using his car as a "weapon of war" in a long-running feud with his neighbours on Tuesday.
Fort William Sheriff Court heard that Ray Chisholm – known as Tony – reversed his car at the couple, who live near him, and another member of their family in a cul-de-sac in the Lochaber village, stopping just before he hit them.
And the neighbours claimed their grown-up daughter, who has learning difficulties, had been forced to give up her own home and move back in with them because she was "terrified" of Chisholm.
The 45-year-old, of Allanbreck, Lettermore, Ballachulish, who owns a number of holiday lets in the village, denied driving dangerously by reversing his Audi Quattro at speed towards Sandra Michiecor, of Lochside Cottage, while she was crossing the road near her home on July 10 last year.
He also denied driving carelessly by reversing his car until the vehicle was close to Sandra and Kenneth Michie and Susan Ross, while they were standing on the road, the following day.
But Sheriff Richard Davidson found Chisholm guilty after trial and sentence was deferred for a background report.
The sheriff fined Chisholm £500 and ordered him to pay £500 compensation to Mrs Michie on the dangerous driving charge.
He also banned Chisholm from driving for two years and until he passes the extended driving test.
On the careless driving charge, he was banned for six months to run concurrently with the two-year ban and admonished.
Sheriff Davidson told him his behaviour was "completely and utterly unacceptable" and said he could have been charged with assault for driving his car at people.
The sheriff said: "It is never going to be acceptable that you use a motor vehicle, to put it crudely, as some kind of weapon of war because of some ongoing dispute between the two of you."
He added that he regarded Mr and Mrs Michie as "wholly credible and reliable" witnesses and could see no reason why they would make up their evidence.
And he pointed out that Chisholm had shown no remorse for his behaviour.
Defence solicitor Stephen Kennedy said his client was presented in the background report as "a law-abiding man, with a strong commitment to his family and a strong moral code".
"He did not intend to cause harm or injury," said Mr Kennedy.
He added that "certain issues" had arisen between the Chisholms and Michies over the years and said his client and his wife had been "trying to keep a distance" between themselves and the other family.
After the hearing, Chisholm said: "I am maintaining my innocence and actively consulting a QC regarding an appeal."
Retired charge nurse Ken Michie, 67,  said they had been terrified when Chisholm drove his car at them and Susan Ross, who is his wife's sister.
He said: "The three of us were having a blether with our daughters and one of their friends when he reversed his car straight back at us.
"It was absolutely terrifying. We really thought he was going to hit us.
"We didn't even have time to try to get out of the way. It all happened so quickly."
Mr Michie also witnessed the incident the previous night when Chisholm drove at his wife and said he was sure the car was going to hit her.
He added that both he and his wife have been receiving treatment for depression and anxiety since their ordeal.
Mr Michie said: "I'm happy he was found guilty, but I thought he got off lightly.
"He should have been sent to prison for what he did to us.
"He very nearly killed us."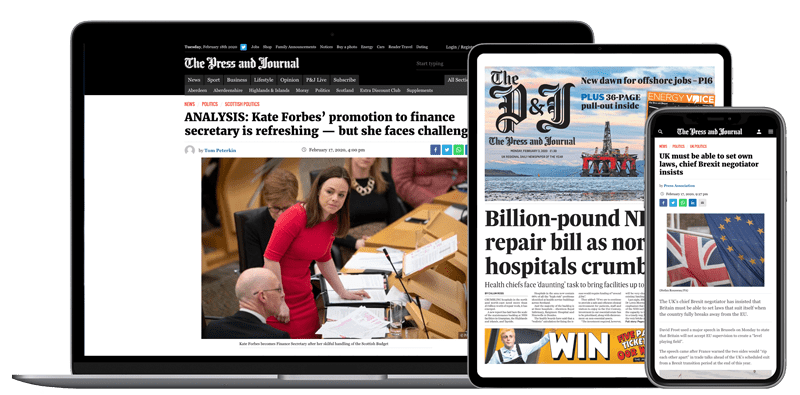 Help support quality local journalism … become a digital subscriber to The Press and Journal
For as little as £5.99 a month you can access all of our content, including Premium articles.
Subscribe