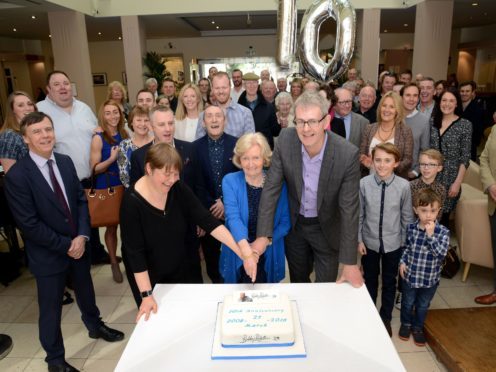 Sir Bobby Robson's family met supporters of his charity on the 10th anniversary of the late former England manager setting it up and they celebrated raising more than £12 million to fight cancer.
The much-loved football man started the Sir Bobby Robson Foundation with the aim of raising £500,000 after he received a fifth and final cancer diagnosis, and he devoted much of his final 18 months to campaigning.
His widow Lady Elsie and one of his sons Mark met fundraisers and supporters at the same Newcastle hotel where Sir Bobby started it all on March 25 2008.
Mark Robson said: "I wish Dad was here today. He would be enormously proud of our fundraisers.
"To help the people that we do, people affected by cancer, it's heart-warming.
"Here we are, 10 years on and we've reached £12 million and that's only because of the fantastic support we're so lucky to receive."
Sir Bobby, who managed England, Ipswich Town, Barcelona and Newcastle United among others, was loved throughout football.
His family wondered whether fundraising would slow down after his death in 2009 but the Sir Bobby Robson Foundation continues to thrive.
In the past decade it has funded the latest cancer treatment and cancer support services that directly benefit patients from across the North East and Cumbria.
It is also playing a significant role in international efforts against the disease.