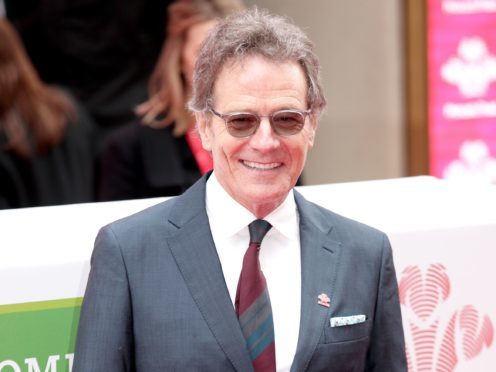 The Time's Up movement is an opportunity to build a world based on a "foundation of mutual respect", Bryan Cranston has said.
The Hollywood star wore a pin bearing the words "Time's Up" on the red carpet at the Olivier Awards in London, where he is nominated for best actor for his performance in Network.
Asked why he was backing the movement, he said: "Because time's up.
"The idea that older white men are controlling the world and having free reign is over.
"With every person that is brought to the attention, and the aggressors, whether sexually or power oppressors, when they fall, we have the opportunity to rebuild on a foundation of mutual respect.
"Invisible of gender, of sexual preference, of colour, let's build it up with mutual respect of everyone.
"Right now it's muddy, it's tough, but there's hope in that."
Cranston, 62, plays Howard Beale in Network, a news anchor whose mental state disintegrates on screen.
Asked about his nomination for best actor, he said: "We're at the Royal Albert Hall. The history of it, to be able to come and be on stage with the rest of the nominees, and who knows, you could win. Maybe you will, maybe you won't.
"It's such an honour to be able to be included in this company, to be able to come to Great Britain and put on a show and try to tell a story as best you can and if you get a tap on the shoulder and they say, 'we'd like to nominate you for something', then wow, fantastic."
He said of the production: "It was written over 40 years ago, it's an enormously prescient story. In the 70s, I think it was written as a farce and now in 2018, not so much of a farce.
"The media is maligned, there are some challenging things, specifically in my country, that need to be addressed, and through art, I think that's really a way of communicating to society that change is possible.
"And hopefully we look at that and say there are opportunities here. The younger generation is making tremendous strides in how we think about things.
"And if we can be assistant in that area that's great."