Liam Gallagher has been announced as a headliner for BBC Music's The Biggest Weekend, where his estranged brother Noel will also be playing.
It is the first time the former Oasis rockers have been on the same festival bill at the same time, although the event – which takes place across England, Wales, Northern Ireland and Scotland – will see Noel headline in Perth on May 26 with his High Flying Birds, while Liam will headline in Coventry on May 27.
Announcing the news on BBC Radio 2, Liam told host Chris Evans that he and his brother are "getting closer and closer to each other".
Evans said: "This is what's so intriguing about this you see – you're like two sperm whales eyeing each other up from miles apart…"
Liam said: "Yeah, that is it, mate. We're getting closer and closer, we're gonna collide, mate, one day and who knows what will happen?"
Speaking about his headline set, Liam said he hopes the crowd is a little bit rowdy.
"It's gotta be the crowd, man, the crowd," he told Evans.
"See, I love a bit of rowdiness at the concerts, I hate the people that just stand there and clap their hands and then go home.
"I like a bit of argy bargy, you know what I mean, down the front."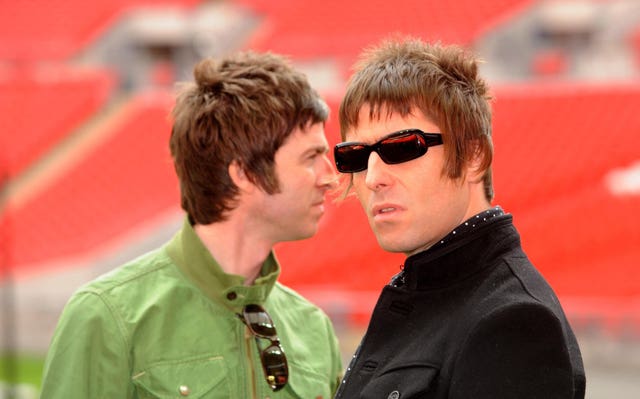 The Biggest Weekend, which will have concerts hosted by BBC Radio 1, 1Xtra and Asian Network, BBC Radio 2, BBC Radio 3 and BBC Radio 6 Music, will take place in Belfast, Coventry, Perth and Swansea over the May bank holiday weekend, from May 25-28.
Other confirmed performers include Ed Sheeran, Taylor Swift, Manic Street Preachers, Snow Patrol and Beck.
More than 175,000 tickets will be available to the public and it is being billed as the BBC's biggest ever celebration of music across TV, radio, online and mobile.
The festival will be aired on BBC One, BBC Two and BBC Four and will also be available to watch on iPlayer, on mobile and online.