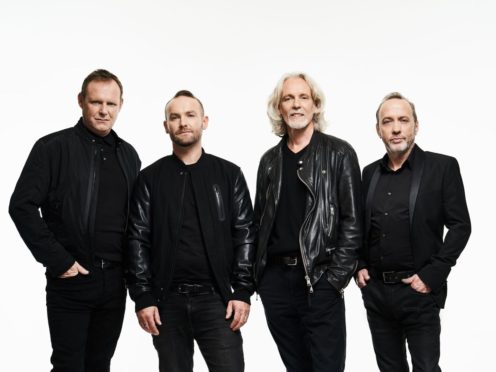 Wet Wet Wet have announced that their new frontman is to be former Liberty X singer Kevin Simm.
The band, which had a 15-week stay at the top of the charts with Love Is All Around, announced the change in line-up on Tuesday.
Singer and founding member Marti Pellow left the group in 2017, but his bandmates wished to continue making music.
The band has now revealed that Simm, who won The Voice in 2016, will take over singing duties ahead of acoustic shows in the UK.
Simm recalls singing the band's songs as standards early in his career.
He said: "I was really taken aback, the opportunity to join a band with such amazing songs and great guys and a great fanbase really excites me.
"When I first started gigging around the pubs and clubs up North two songs that were always in my set were Goodnight Girl and Love Is All Around."
Simm first found fame on Popstars in 2001, and formed the band Liberty X with other runners up.
The Scottish band has sold 15 million records, and spent 15 weeks at the top of the charts in 1994 with their cover of The Troggs' track Love Is All Around.
Looking to return to the soul routes of the band, members have announced they will soon be writing new material with the new singer on board.
Guitarist Graeme Clark said: "What's really exciting me is how this is going to manifest itself going forward, we're going to go out and do dates, and after that, we'll write some songs."
Wet Wet Wet are set to play shows in London and Glasgow from November 16.