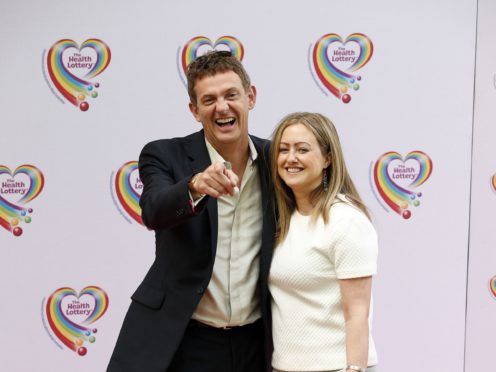 Matthew Wright and his wife Amelia have shown off their new baby on morning TV.
The couple became parents to daughter Cassady last month, after trying for a baby for eight years and enduring six failed IVF attempts.
On Wednesday they took Cassady into the studio to see TV host Lorraine.
"To finally have her and hold her in my arms after all that time trying. It's like a dream," Amelia told the ITV show.
She added: "I think I didn't realise how much I had been through until I had her. It almost hit me like a tidal wave."
TV host Wright said his wife had been emotional after the baby was born.
"I would come in and find Amelia holding her weeping tears of joy," he said.
Wright previously revealed how he almost missed the birth of his first child as he was stuck in traffic.
He only found out that Amelia was about to give birth when he received a text from her as he came off air from his radio show.
"It took one hour 15 minutes to get from my offices in Waterloo to the hospital in Hammersmith, usually it would be 40 minutes, and I was having kittens," he told Hello! magazine.