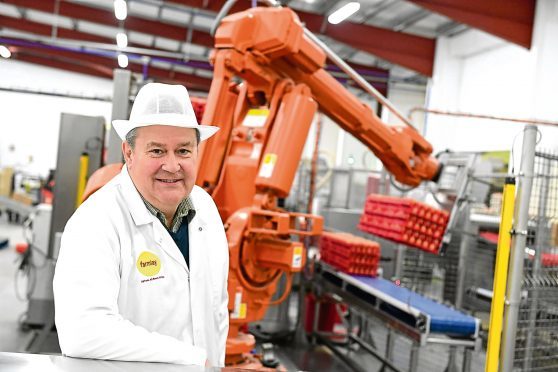 A well-established poultry business and an innovative organic dairy enterprise have been announced as finalists in the running for the Royal Northern Agricultural Society's (RNAS) good farming practice award.
The award, which is sponsored by Aberdeenshire Council, celebrates a farmer in the region who is showing good practice in his or her farming business.
Once nominations and entries were received, farms were visited by a judge who drew up a shortlist of two finalists.
This year's judge was well-known agricultural consultant and NFU Scotland treasurer Gerald Banks, of Maud.
His two finalists are: the Chapman family, which runs Farmlay Eggs near Strichen, and the Willis family which runs an organic dairy enterprise at Glasgoforest, Kinellar.
Mr Banks said the attention to detail in the management of both businesses was exceptional. He praised the Chapmans for their investment in the future with renewables and new technology, while the Willis family was praised for its preciseness and close eye on detail.
The Chapman family – Robert, Ethel and their son Iain – run the largest egg packing company in the north-east from the family's 2,000-acre farm at West Cockmuir, Strichen.
The business packs around 4million eggs a week for Morrisons, Aldi and Lidl in Scotland.
It also supplies the Aberdeenshire Choice range into Tesco stores.
Just under half of the eggs are produced on the family farm and the remainder are sourced from a group of more than 20 contract producers from across Aberdeenshire, Moray and Kincardine. The family recently invested £3.5million in a new grading facility complete with five robots, which has enabled increased efficiency.
Meanwhile, the Willis family runs an organic dairy farm near Kinellar.
William Willis has been running the farm, with help from his mother and his siblings, since the age of 20 when his father died.
A new 163-cow cubicle shed was built three years ago and the existing 14×28 swingover herringbone parlour was lifted onto the new site.
The family runs a grass-based system and around half of the herd's milk is produced from forage.
All milk is marketed through the Organic Milk Suppliers Co-operative and the family is currently in the process of starting up a retail business comprising an on-farm vending machine for organic milk.
The winner of the award will be revealed in next week's Press and Journal Farming.